---
Academics
MDC recognized for Learning Outcomes initiatives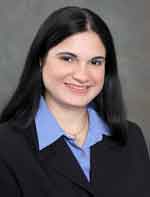 Dr. Lenore Rodicio
Miami Dade College is the proud recipient of the 2008 Exemplary Award for Improving General Education from the Association for General and Liberal Studies (AGLS). The College is one of only two higher education institutions in the nation to win the award this year.
Dr. Lenore Rodicio, chair for the department of natural and social sciences at MDC's InterAmerican Campus, traveled to Asheville, N.C., to accept the award on behalf of the College at the AGLS conference.
"Receiving the AGLS Exemplary Program Award is truly an honor for MDC," said Rodicio, who served as co-chair of the team charged with strategizing and implementing MDC's 10 Learning Outcomes.
The award is recognition that "MDC's general education reform process is in the top tier of national models for learning outcomes reform, interdisciplinary integration and assessment," added Rodicio.
AGLS praised MDC's mission to move from a complex set of 25 general education goals first established more than 30 years ago to an updated, streamlined and multidisciplinary set of 10 College Learning Outcomes. Miami-Dade's successful approach was recognized for its methods of engaging great numbers of faculty in the process, despite the size of this multi-campus college of more than 165,000 students. The process was a three-year, multi-phased series of summits, workshops, learning activities, surveys and open dialogues among faculty, students and leaders in the community.
"The Award Committee unanimously agreed that the Miami Dade College program review process will serve as an excellent model for other institutions, especially two-year colleges," said Michael E. Gress, president of AGLS.
According to Gress, the judges were particularly impressed with the institution's ability to win faculty support of central learning goals and with the use of assessment to improve learning.
Established in 1961, AGLS is a national forum for inquiry concerning the improvement of undergraduate education. The association seeks to enrich the educational experience of America's college and university students by stimulating vigorous discourse among professors, administrators, and all those concerned about the purpose, scope and nature of general and liberal education.
Rodicio was also elected to the executive board of the Council for the Administration of General and Liberal Studies.
— Lourdes Rodríguez-Barrera
More Academics Articles