---
Cultural Spotlight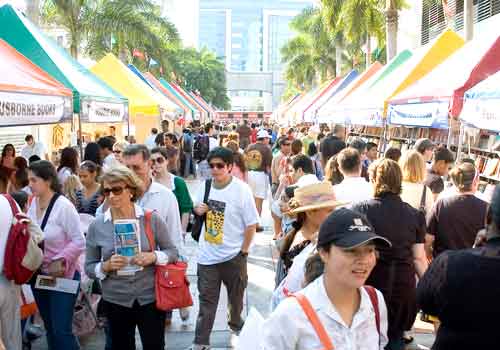 Join us for Miami Book Fair International's 25th anniversary
Miami Dade College and all of South Florida will celebrate the 25th anniversary of Miami Book Fair International from Nov. 9-16. Hear readings from popular authors, prize winners, celebrities and commentators at the nation's most esteemed literary gathering.
The following is just a sample of events scheduled for this milestone year.
Inauguration Celebration
Nov. 8, 7:30 p.m.
Knight Concert Hall, Adrienne Arsht Center
South Florida's premier arts groups salute the 25th edition of Miami Book Fair International with opera, ballet, theater, poetry and modern dance performances in a night packed with celebrities, dignitaries and literary figures.
Comix Galaxy
Graphic novels and comics invade the Book Fair's universe in this first-time program. The Galaxy features events showcasing the format's brightest stars, including Art Spiegelman, Chip Kidd, Jessica Abel, Frank Beddor, Christos Gage and many more. Also featuring the School of Comics for librarians, teachers and parents, plus an exhibition of original comic book art by the legendary Will Eisner.
Cultural Fringes Festival
In celebration of the 25th anniversary, cultural institutions from all over South Florida will dedicate performances, exhibitions and other arts events to the Fair. Fringes opens Oct. 25 with a performance of the musical 1776 at the Actor's Playhouse.
International Village Opening
Nov. 9, 4:30-6:30 p.m.
Explore six countries without traveling at the International Village, where the cultural and literary traditions of Argentina, Brazil, Egypt, South Africa, Spain and the French-speaking countries will be on display. Visit the village every weeknight to celebrate the culture of one of six featured countries.
Children's Alley
Nov. 14-16
For the young ones, the Children's Alley returns with a full slate of activities, including book-inspired theater, arts and crafts, storytelling and readings by children's book authors from around the world. Kids can join in dozens of activities, from reading along with Elmo and his friends to helping to save the planet at the Eco/Earth Tent to sculpting a comic book superhero.
The Tween/Teen Scene
Nov. 14-16
Student Life Patio, Building 2, First Floor
The Fair debuts a full schedule of events just for tweens and teens, kids ages 12 to 17 years old. In addition to the presentation of Frank Beddor's graphic novel, Hatter M, teens can have their comic artwork critiqued by Jessica Abel and Marvel artist Bill Perkins, mold a hero of their own in the Superhero Sculpture Workshop by Ivan Galindo or join a guided tour of the Centre Gallery, where original comic book art by Will Eisner, creator of The Spirit, will be on display.
Nov. 15, 10 a.m.
Wake up and join authors Dave Barry and Ridley Pearson — Science Fair, Nikki Giovanni — Hip Hop Speaks to Children, and Jeff Kinney — Diary of a Wimpy Kid Do it Yourself Guide.
Write Out Loud Café: Local and Live
Northeast Second Ave., between Fourth and Fifth Streets
Featuring poems, stories and surprises from: Gulfstream magazine, Heeb Storytellers, Lip Service All Stars, Miami Writers Association, Miami Poets, poptv, Prime-Time Poets and Tigertail. Music by: Secret P.E. Club, Mr. Entertainment, Graham Wood Drout, Maguinha and Peter Betan.
Creative Writing Workshops
Including: Shaping Memory Into Memoir with Honor Moore • Publishing Boot Camp: Everything You Wanted to Know About Publishing But Were Afraid to Ask with Sandy Dijkstra • Writing Poetry with Andrei Codrescu
— Staff Report
More Cultural Spotlight Articles