---
Features
The Honors College is a smart choice for top students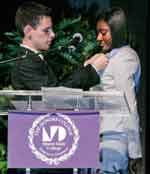 Pinning Ceremony
The Honors College welcomed new students with a pinning ceremony at Gusman Center for the Performing Arts.
To formally welcome students and their families to the Miami Dade College family, The Honors College recently hosted its annual Pinning Ceremony at the Gusman Center for the Performing Arts. The event served to introduce the incoming class to the College and its community of scholars, faculty and administrators.
The Honors College represents – and celebrates – scholastic excellence and the newest members of The Honors College at MDC seem poised to continue that esteemed tradition.
Here are few examples of students from the entering class who already boast exemplary academic credentials:
• Joseph George Vithayathil, an economics major at Kendall Campus, recently relocated to South Florida from India, where he attended St. Joseph's Boys High and scored 1210 on the SAT. He initially found Miami Dade College online and was immediately impressed by The Honors College. "As a student from another country, I was anticipating out-of-state prices. The financial assistance The Honors College offers was ideal."
And in his first month, the College has continued to impress. "My classes are small and the professors focus on making things interactive and personalized," he said.
He says that he is most looking forward to meeting people and learning from fellow classmates' experiences. "Interacting with students with different backgrounds helps me adapt to this culture and feel more comfortable. It gives me a wider perspective."
• Johnniya Hamilton said one of her proudest moments occurred when she was elected president of the Math Honors Society at Miami Norland High, where she maintained a 4.51 GPA. The North Campus business major will have many more opportunities to lead as a member of The Honors College.
She stayed close to her Miami Gardens home by choosing MDC. "My mom was very happy," she joked. But her collegiate plans include pursing an internship in federal law enforcement in Washington, D.C.
Working for the Secret Service is a career she says she is considering for the future, but for now, she is eager to start enjoying herself and being successful in school. "I know that college will be a great part of my life," she said.
• Elizabeth Arnold, a graduate of Florida Christian School with a 4.29 GPA, chose The Honors College because she says the opportunities the school presents are "unparalleled" and they "push you to be the best you can be."
The nursing student at Kendall Campus said she is excited about college because here she'll learn "what the real world is all about."
She thinks The Honors College is the perfect stepping stone to get her to Johns Hopkins or New York University, where she eventually plans to continue her studies.
In the meantime, she says that she is looking forward to meeting many new and different kinds of people. "It's inspiring. I couldn't think of ... passing up such an experience."
• Camila Caunedo graduated from Barbara Goldman High with a 4.81 GPA two years after arriving in Miami from Cuba.
"When I graduated and my director shook my hand – it was an emotional moment," she said.
Caunedo is studying biology in the Honors Dual Langauge program at InterAmerican Campus and is also a part of the Bridge program with the University of Miami. With plans to become a doctor, she said, "I like heart transplants, any surgery to save lives," she said. There are just 54 students in The Honors College on her campus so "everybody knows everybody."
She is enjoying the small group atmosphere and learning "about people's different backgrounds," and after only the first few weeks, Caunedo says she is already very comfortable, calling it a "home away from home."
• Miami Beach High graduate Meosheka Chin-Tai, is an aspiring wildlife activist, and says that her mother and sister encouraged her to consider Miami Dade College. "They both attended MDC and had great experiences."
The Honors College offered her "the easiest transition from high school," she said. Going to class at Wolfson Campus was an added bonus.
In high school, Chin-Tai maintained a 4.61 GPA while serving as the public relations officer for her school's literary magazine. Now, the environmental studies major is looking to get more involved in college. "There are so many interesting clubs and activities."
— Katherine Joss
More Features Articles