---
Academics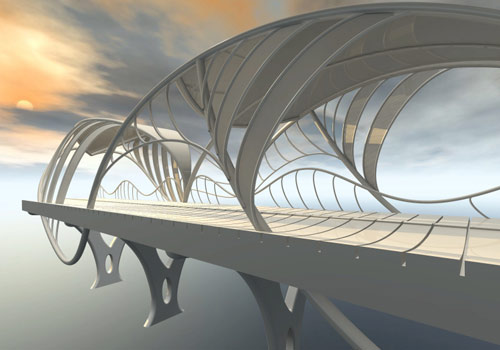 Architecture students embrace new technology
Students in the School of Architecture at MDC's North Campus are working with cutting-edge software that offers them unparalleled creative opportunities.
"Our students now have the opportunity to close the gap between design and construction, and operate in an integrated collaborative design environment," explained professor Hector Camps.
CATIA (Computer-Aided Three-Dimensional Interactive Application) offers virtual design capabilities that address the complete product development process. Commonly used in the aerospace industry to tackle everything from design through simulation, the same technology offers architects the chance to design highly complex and innovative buildings. "Working on CATIA is truly amazing," said second-year architecture student Hector Ceballos. "It offers you power, freedom and limitless possibilities."
MDC is the only institution in South Florida – and the only public institution in the state – to offer training in CATIA.
"CATIA is some of the most advanced technology in the world. It was used by Frank Gehry to create his iconic Guggenheim museum in Bilbao, Spain," said José Lozano, chair of MDC's School of Architecture.
More recently, it was used to build the highly publicized Beijing National Stadium, commonly known as the "bird's nest," where the opening and closing ceremonies of the 2008 Olympics were held.
Revit® Architecture building design software is a more architectural modeling platform. The software allows students to produce one 3-D file that contains multiple, connected elements.
When any one element is changed during the design process, it's automatically coordinated throughout the entire project, so designs and documentation stay consistent and complete.
This feature, called parametric relationship, helps architects and engineers avoid an enormous liability issue; many firms are now utilizing this software and training is in demand.
"It is a changing working environment where engineers and architects are shifting toward this technology," said Lozano. "Students are gaining important hands-on experience."
Both Revit® and CATIA software are purpose-built for building information modeling (BIM) – the process of generating and managing digital building data during its lifecycle. And the teaching of advanced classes in BIM is a major part of MDC's strategic plan to educate the workforce in the architecture industry.
"New projects will demand expertise in BIM. MDC is offering training that has already changed the industry and we believe, will soon be necessary to enter the field," said Lozano.
— Katherine Joss
More Academics Articles