---
Alumni News
Invested in public interest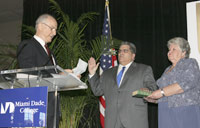 Bennett H. Brummer, Carlos Martinez and Yara Martinez
Miami Dade College was proud to host the swearing-in ceremony for alumnus Carlos Martínez, who became the first Cuban-American to hold the office of public defender in Florida and the first Hispanic to be elected to that office in the U.S. Former Miami-Dade Public Defender Bennett H. Brummer administered the oath at Miami Dade College's Freedom Tower.
The venue for Martínez's investiture was significant because his personal history as a Cuban exile in the U.S. started at the Freedom Tower. His family was processed there immediately after arriving on a Freedom Flight in July 1969.
MDC salutes Martínez on this historic milestone. On April 16, Martínez, along with other prominent alumni, will be inducted into the Alumni Hall of Fame.
— Staff Report
More Alumni News Articles