---
Alumni News
Young playwright praised in theater circles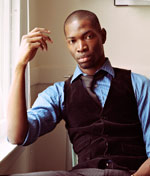 Tarell Alvin McCraney
New World School of the Arts (NWSA) alumnus Tarell Alvin McCraney is one of the most promising and most celebrated new voices in American theater. Not yet 30 years old, McCraney has endured great personal challenges, including extreme poverty, to triumph and soar as an artist. He credits NWSA with helping him identify his talent.
"NWSA committed me to honoring the art form of theater with bravery, discipline and, above all, love," he said.
After graduating from NWSA, McCraney earned a Bachelor of Fine Arts from the Theater School at DePaul University and went on to complete a master's in playwriting at the Yale School of Drama.
Honored with the Dean's Award in Theatre and the Exemplary Artist Award while at NWSA, McCraney has continued to earn high praise for his work. Critics admire his careful – and unique – explorations of race, myth, history and culture.
McCraney received the Cole Porter Playwriting Award upon graduation from Yale and was the recipient of the 2007 Paula Vogel Playwriting Award and the 2007 Whiting Award. In 2008, he earned London's Evening Standard Award for Most Promising Playwright.
McCraney is currently the Royal Shakespeare Company's international writer-in-residence and the Hodder Fellow at Princeton University.
As part of the National Endowment for the Arts' New Play Development Program, McCraney's trilogy, The Brother/Sister Plays, was selected as an NEA Outstanding New American Play.
"In an attempt to create theater that told untold stories, that gave voice to another half of America, I created The Brother/Sister Plays," McCraney said.
The plays, In the Red and Brown Water, The Brothers Size and Marcus; Or the Secret of the Sweet, all center on African-Americans in the Deep South. Each story is punctuated by the highly symbolic mythology of Yoruba, a West African religion that traveled to the New World and spawned pan-African religions like Santería, Umbanda and Lukumí.
Those around McCraney call him a hard worker, and note that he has "so much passion, a real fire."
"In my heart I knew all that was shaped, molded and lit afire by New World School of the Arts," he said. McCraney returns often to his alma mater to watch student performances and to try and reconnect, or stay in touch, with that "muse of fire" that is NWSA. "It stays with me all over the world," he said.
The New York Times said of McCraney: "Listen closely, and you might hear that thrilling sound that is one of the main reasons we go to the theater, the beautiful music of a new voice."
— Katherine Joss and Elizabeth Tracy
More Alumni News Articles