---
Academics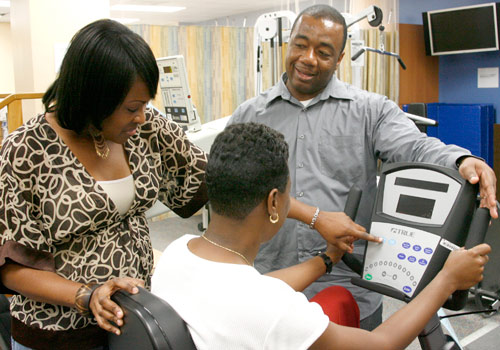 MDC celebrates faculty accomplishments
Throughout the 2008-09 academic year, MDC faculty were recognized locally, nationally and internationally for their achievements. At the start of the year, eight MDC professors were honored with the College's most prestigious faculty award, the Endowed Teaching Chair. These professors, representing five campuses and six academic disciplines, were selected by a committee of their peers following a rigorous process.
Among those honorees were Dr. Irene Lipof, a social science professor who collaborated on two learning communities that help students improve their literacy skills, and Kenneth Lee, who played an integral role in the development of the curriculum for the physical therapy assistant program.
Lipof, Lee and the six other Endowed Teaching Chair award recipients – Dr. Luis Beltrán, Dr. Alvio Domínguez, Dr. Cynthia Schuemann, Dr. Sandra Schultz, María Mari and Alberto Meza – represent a small sampling of MDC professors who are making major impacts in and out of the classroom.
Learning Outcomes
Chief among faculty accomplishments was the continued roll-out of the Learning Outcomes assessment process, which earned MDC the 2008 Exemplary Award for Improving General Education from the Association of General and Liberal Studies.
The success of the Learning Outcomes movement is owed to the entire faculty. Each, like Hialeah Campus' reading professor María Alina García, used innovative techniques to address the Learning Outcomes. For García, improving student performance meant using digital technology to engage student interests.
The College encourages such innovation.
Film, Theater & Print
Last year, criminal justice professor Dr. Grace Telesco added the title of filmmaker to her CV. Telesco's film, Beyond Good and Evil, was the culmination of a two-year collaboration with former police officer Michael Sheetz, a professor at American InterContinental University. It was originally intended as a police training video but grew into a film that had its debut in Fort Lauderdale.
English professor Preston L. Allen isn't just teaching students to appreciate literature – he's adding to the canon. His fourth book, All or Nothing, received much-deserved praise from the New York Times. Contributing columnist Andrew Hultkrans compared Allen to one of Russia's greatest authors. "Like Dostoyevsky, Allen colorfully evokes the gambling milieu — the chained (mis)fortunes of the players, their vanities and grotesqueries, their quasi-philosophical ruminations on chance."
English professor Dr. Ivonne Lamazares published a short story about migration titled "Hostal Jamil" in The Southern Review, a prestigious journal housed at Louisiana State University; and English professor Caridad McCormick published a new collection of poetry, Visionware, which examines how identity is shaped by cultural and social expectations that both influence and collide with the search for self.
Geoffrey Philip, North Campus college prep chairperson and author of Grandpa Sydney's Anancy Stories, won the Outstanding Writer Award from the Jamaica Cultural Development Commission. Philp also earned a gold medal for his poem, "Isaac's Sacrifice," and a silver medal for his short story, "Bobby Bijani and the Rolling Calf" in the national competition.
Wolfson Campus professor Michael Hettich published poetry in the Chiron Review and The Mysterious Life of the Heart, an anthology. His work will also appear in Prairie Schooner, Rattle, Colere, the Southern Poetry Review and the Portland Review, among other noted journals. A new book of poetry, Like Happiness, is forthcoming.
Receiving local acclaim for a literary work, theater professor Joshua Braun won first place in a short-play competition sponsored by the West Boca Theatre Company of the Adolph and Rose Levis Jewish Community Center. Braun's play, Billions Served, tells the story of two middle-aged men waiting for an appointment with an unnamed, unseen figure.
The faculty in the renowned School of Architecture and Interior Design celebrated the publication of A Gathering of Student Projects, a comprehensive journal that publicizes the excellent work of students. The book serves as a tool to inform upper-division institutions of the accomplishments of MDC students and to facilitate student transfers.
In other publishing news, history professor Dr. Víctor Vázquez was appointed to the editorial board of Critica Journal, the biannual publication of the National Institute for Latino Policy; the research of communications professor Shane Gunderson appeared in Resistance Studies Magazine, a peer-reviewed, open-access magazine for the studies of resistance and social change; and the research of Dr. Mohammad Shakil, professor of mathematics at Hialeah Campus, was published in Statistical Papers, an international journal devoted to statistical methods that are relevant to the study of economics and social sciences.
The research of Valerie De Angelis, professor of psychology and student life skills, was published by the University of South Carolina's National Resource Center for First-Year Experience and Students in Transition.
Fellowships & Other Recognition
Science professor Marlene Morales was awarded a fellowship from the Advanced Technology Environmental & Energy Center. And Dr. Lenore Rodicio, chairperson of natural and social sciences at InterAmerican Campus, was elected to the Executive Board of the Council for the Administration of General and Liberal Studies.
Nursing professor Annette Gibson received an award from the Florida Campus Compact for contributing to the integration of service-learning into the College's nursing curriculum.
— Nicole Tallman