---
Features - MDC Grads
Tenacity and Determination: Susana Rodríguez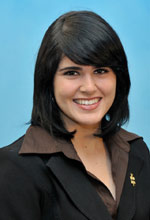 Susana Rodríguez
Like many immigrants, Susana Rodríguez did not speak a word of English when she arrived in Miami from Havana 10 years ago.
"Kids were cruel to me because I was new here and I didn't speak the language," Rodríguez said. "But, I wasn't scared to say things like 'this is my French,' instead of 'friend,' and I was never ashamed."
That tenacity and determination helped Rodríguez master the new language and maintain a 3.83 grade point average while working toward her associate degree. She plans to continue her studies in psychology at the highly selective Smith College, where she has already been accepted, or the equally competitive Vassar, her first choice.
"I absolutely love people," Rodríguez said. "There is something about understanding how people think that intrigues me."
She chose MDC because she came from Monsignor Edward Pace, a small Miami Gardens Catholic school, where the teachers had close relationships with their students and she didn't want an "abrupt change," said Rodríguez, who served as president of Phi Beta Kappa.
"I didn't want to be one out of 500 students in an auditorium," she said. "At MDC, my professors let me work at my pace and they never made me feel little if I needed help. It's been a great place to make the transition."
After earning a terminal degree in psychology, Rodríguez hopes to combine her knowledge with her love of dance, which she has been doing since she was in Cuba, to create a therapy program for children.
Return to "MDC grads accepted to top institutions"
— Pilar Ulibarri de Rivera
More Features - MDC Grads Articles