---
Features - MDC Grads
Further Than Imagined: Verónica Correa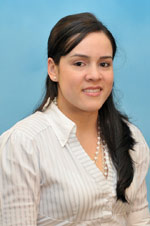 Verónica Correa
Verónica Correa knows firsthand how a person's life can change in just a few years. As an engineering student halfway through her degree in Colombia, she moved to Miami in 2007 to be with her mother and sister after her father died of cancer. She wanted to help support her family, so she took a job as a cashier at a local supermarket.
But her mother saw bigger things for her. North Campus is near the family's home, so Correa's mother suggested she enroll.
"I thought, 'This is going to be my life from now on. I'm just going to work,'" Correa said. "But she was the one who pushed me to take that step."
Correa enrolled in ESL classes and thought she'd just get a certificate and go back to work. Her mother and her professors, recognizing her promise, pushed her to go further.
She applied to the Honors College, was accepted, and for the first time began to consider a career. Her interests are international relations and politics.
In her two years at MDC, Correa got much further than she ever imagined. And next year, she'll go further still when she enters as a junior at one of the nation's most prestigious institutions, Wellesley College, which offered her a full scholarship.
And her aspirations go further. After Wellesley, she wants to go to Harvard Law School and eventually work for the United Nations.
"My life wasn't set up to be like this," she said. "When I got here just two years ago I would have never imagined that I was going to be going off [to school] with a full scholarship. I didn't even dream of it."
Return to "MDC grads accepted to top institutions"
— Natalia Maldonado
More Features - MDC Grads Articles