---
Features - MDC Grads
Outshining Adversity: Virginia Báez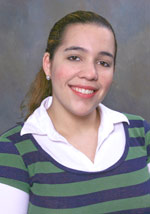 Virginia Báez
Overcoming hardship is something Virginia Báez knows well.
Báez, who was born in Cuba, attended Coral Gables High School. In 2004 she was in a severe car accident and suffered a traumatic brain injury, which put her in a coma for nine weeks.
As a result, she developed a learning disability. But none of this stopped her. She entered Miami Dade College and became a student in the Honors College at Wolfson Campus.
Báez graduates with a degree in psychology, a 3.75 grade point average and a string of illustrious accomplishments.
While at MDC, she participated in the Society of Law and was a member of Phi Theta Kappa. She also volunteered at Jackson Memorial Hospital, the Ronald McDonald House Charities and the Aspira Charter Schools for at-risk children.
Accepted to Heidelberg University with $30,000 in scholarships, Virginia plans to continue her major in psychology and minor in French. Her goal is to become a federal prosecutor so she can see justice done in the world.
"I want to go to law school after my undergraduate degree and I believe a psychology major will help me better understand people, their personalities and how society works," Báez said. "That, in turn, will give me a better understanding of the legal system. With this knowledge I believe I will bring a lot more to the table. I also want to learn French because I believe that humanity's ability to learn is wonderful, and I simply want to learn as much as possible!"
Return to "MDC grads accepted to top institutions"
— Barbara Bickel
More Features - MDC Grads Articles