---
Academics
Blending the abstract and the concrete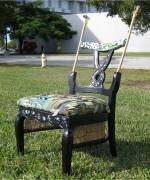 Student-designed mosaic chair
In two short weeks a series of transformations occurred in a first-level interior design and architecture class at MDC's Kendall Campus. Old, unsightly chairs were given new life as works of art using only recycled materials. In the process, their creators went from being students to real-life designers and, since the sale of those pieces went to charity, humanitarians.
This service-learning project, along with two others, led by professor Lyle Culver, resulted in more than 4,000 community service hours. In the first project, the chairs were exhibited and auctioned during a "green art fair" at Art Basel, the world's premier international art show for modern and contemporary works.
"It's not usual for our Design 1 students to do this type of work," Culver said. "I had confidence in them and encouraged them to use their imaginations."
The Art Basel project is typical of what students encounter in the School of Architecture and Interior Design. With programs leading to Associate in Arts, Associate in Science and college credit certificates in a number of disciplines, the school gives first- and second-year college students unprecedented opportunities to study the aesthetic and technical aspects of design.
"We stimulate students' creativity and help them to develop their own creative ideas without subscribing to a specific design philosophy," school chair José Lozano said.
Faculty members emphasize theory and guide students in applying design principles to generate abstract and concrete architectural forms with a critical approach, Lozano explained.
Creativity was certainly the point of the Art Basel project. Culver's students worked every day for two weeks. They reupholstered with fabric made from recycled plastic bottles and produced functional chairs of their own design. One student applied broken glass to a colorful mosaic, while another, paying tribute to his Haitian ancestry, created a designed inspired by the voodoo tradition.
Lozano, the school's chair, praises faculty members like Culver for coming up with innovative ways of teaching.
Two years ago the faculty led the development of a high-end journal documenting the curriculum and student designs. The journal was distributed to upper-division design and architecture schools around the country. The feedback, Lozano said, was overwhelming, particularly because MDC has an open-door policy and doesn't prescreen who can or cannot pursue a degree.
Additionally, it is rare for two-year programs to produce journals of such scholarly magnitude.
"They have tremendous dedication and talent when dealing with students," he said of the faculty, which includes professionals who apply their real-world experience to classroom instruction.
Culver challenged his second-level architecture design students with a project tough enough for students in upper-division programs or professionals. The first, a seven-week project, challenged students to design a sculpture park for the Kendall Campus, create a proposal and present it to senior management at the College and to community leaders.
Starting with site analysis, the designers had to fully develop concepts, including drawings and models, for the large lawn facing busy 104th Street, where there are currently two sculptures.
"It was a challenging project and the level of detail was incredible," said Culver of his students, some of whom incorporated a drainage pond on the site as a water feature. "I was pleasantly surprised."
He was equally surprised in the second half of their semester when those same students went down to Little Havana to work with the Viernes Culturales Board to spruce up Calle Ocho storefronts. The students designed storefronts for clients and reconfigured interior spaces, created models, analysis and proposals.
"These were real-life projects with real-life implications, not just theory," Culver said.
— Pilar Ulibarri de Rivera
More Academics Articles