---
Cultural Spotlight
Exhibition honors Cuban master Cundo Bermúdez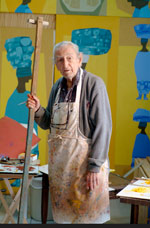 Cundo Bermúdez in his studio, 2007
MDC's Art Gallery System will pay tribute to one of Cuba's greatest artists with Under a Brilliant Sun: Cundo Bermúdez Into the 21st Century, an exhibition of the late master's work, at Miami Dade College's Freedom Tower.
The exhibition honors Bermúdez's contributions to modern art, showcasing a selection of works that includes some of his later creations – including pieces never shown in exhibitions.
Born in Havana in 1914, Bermúdez was a founding member of Cuba's Association of Painters and Sculptors. He led the tide of modern Cuban art in the 1940s and 1950s, drawing inspiration from the people, landscape, music and political climate around him. His works have been exhibited around the globe.
Bermúdez died on Oct. 30, 2008 in his home in the Westchester neighborhood of Miami-Dade County. He was 94 years old.
In recent years, MDC's Freedom Tower has been the site of numerous premiere exhibitions hosted by the Art Gallery System, including visiting exhibitions of the works of Dalí, Goya and Da Vinci.

More Cultural Spotlight Articles