---
Features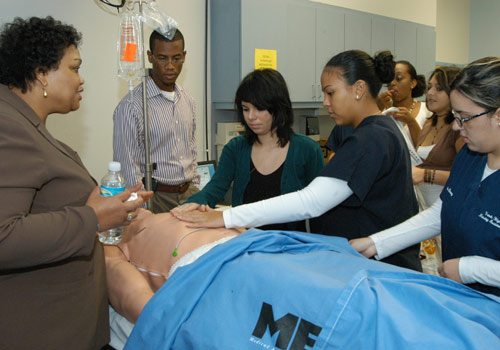 Florman grant upholds a legacy of giving
Miami Dade College shared a more than $200,000 award from the Florman Family Foundation that addresses the nursing shortage by providing scholarships to nursing faculty who wish to pursue doctoral degrees. MDC's School of Nursing received $112,000 and the University of Miami's Miller School of Medicine received $90,000.
The gift to MDC provides four scholarships of $28,000 each to existing faculty at the College's Medical Center Campus who wish to pursue a doctorate in nursing practice at the University of Miami.
Upon successful completion of the program, each recipient will receive an additional $4,088 through the College's tuition reimbursement program and $5,000 from the MDC Foundation.
The United States is facing a critical shortage of nurses, with no sign of abating. The problem is especially severe in South Florida.
Increasing the number of faculty with doctoral degrees allows MDC to enhance and expand its Bachelor of Science in Nursing program. Scholarship recipients must remain at the College for at least three years following the completion of their doctoral studies.
Long-time Miamians Marv and Betty Florman were committed to supporting the community that meant so much to them when they moved here many years ago. Since their passing, the trustees of the Florman foundation have remained faithful to their legacy of funding programs and organizations that were of importance to Marv and Betty. The Foundation focuses on education, social welfare, nursing and the arts.
"We are delighted to assist the faculty at these fine institutions with their pursuit of an advanced degree that will help develop greater capacity in this community to address the nursing shortage," said Mark Blank, chairman of the Florman Family Foundation. 
More Features Articles