---
Features
Padrón represents U.S. at UNESCO conference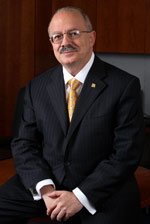 Dr. Eduardo J. Padrón
MDC President Dr. Eduardo J. Padrón was asked by the Obama administration to represent the U.S. at a global UNESCO conference on higher education.
Held in Paris this summer, the conference – titled "New Dynamics of Higher Education and Research for Societal Change and Development" – brought together main higher education stakeholders worldwide.
The conference served as an opportunity to forge a new commitment to the development of higher education and to set an agenda for the design of education policies and institutions on an international, national and regional level.
The conference closed with a call to governments to increase investment in higher education, encourage diversity and strengthen regional cooperation to serve societal needs.
More than 1,000 invited participants from all regions of the world were in attendance, including Dr. Jill Biden, a college professor and the wife of Vice President Joe Biden; several ministers of education and prime ministers from countries in Europe, Africa and Latin America.
Biden was with Education Secretary Arne Duncan when he  visited MDC earlier this year on what was his first official visit to a college or university since he took office.
— Gariot P. Louima
More Features Articles