---
Academics
Power Lunch seminar aids MDC's unique paralegal program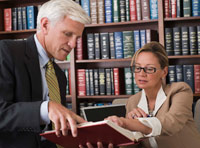 MDC has the only ABA-approved paralegal studies program in the United States.
Miami Dade College teamed up with the South Florida Paralegal Association to host a continuing education seminar to raise funds for MDC's Law Center, which is the only American Bar Association-approved paralegal studies program in the U.S. The Back-to-School Power Lunch featured Mark Eiglarsh, criminal attorney and legal analyst; Scott L. Rubin, Florida Registered Paralegal Committee chair; and Adilia Vasquez, Westlaw research specialist. Topics discussed included new legal research methods and the ethics of representing guilty clients.
Funds raised will go to purchasing new law books, research subscriptions and development for the Law Center.
— NM
More Academics Articles