---
Academics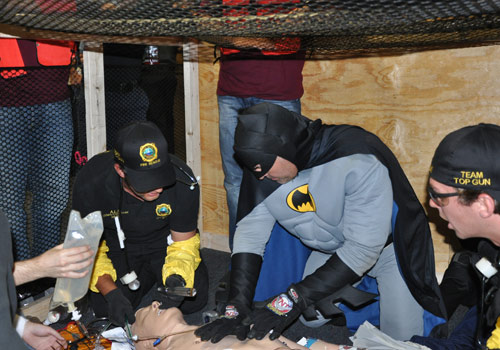 Putting their knowledge to the test
When tragedy strikes, we count on first responders to save lives and recognize serious injuries.  At the 10th Annual Randy Boaz Memorial Advanced Life Support (ALS) Competition, 22 teams tested their skills in various advanced life-saving scenarios at Miami Dade College's Medical Center Campus.
In memory of late City of Miami paramedic and MDC instructor Randy Boaz, the recent competition pushed participants to their limits. Among the competitors were two teams from MDC (students and alumni) and three teams from the Mexican Red Cross. The participants, some dressed as actual super heroes, practiced advanced life-support techniques on mannequins in various scenarios. Amid screams for help and cramped conditions, participants kept their cool and administered their life-saving techniques.
MDC, the nation's largest institution of higher education, is a leader in first responder, public safety and health training.
— JD
More Academics Articles