---
Academics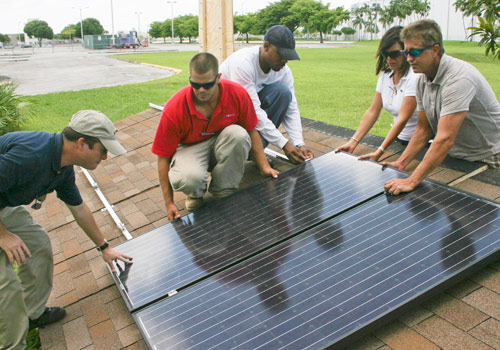 MDC, University of Puerto Rico team up on renewable energy work
MDC's Environmental Studies (ES) program is working to make the new Science Complex a research center for renewable energy sources and technology. Program leaders are working on designing  plans for a center for renewable alternative energy on the North Campus that would include solar panels and wind turbines, along with hydroelectric and bio-fuel power sources.
MDC's ES program is working on the plan jointly with the University of Puerto Rico at Río Piedras, the MDC North Campus partner in Project PUENTES. The Spanish word for "bridges," PUENTES is the Partnership for Undergraduate Education in the Natural Sciences for Transformational Engagement of STEM students. STEM is the acronym for Science, Technology, Engineering and Mathematics.
MDC's center would provide a hands-on, outdoor learning experience for students interested in getting a head start in this growing field. Solar panels would be installed on the Science Complex's rooftop
or outdoor lawn, where students could study the technology.
"This is an up-and-coming field that we know that Florida is going to have a fair of amount of solar energy potential in," said Dr. Elisha García, instructional manager in the ES program. "As a community college, it's always nice to be able to serve the community and have those people trained to actually work on solar panels once they start being installed in
the area."
Projects also would focus on alternative fuel sources, such as biofuel and biodiesels. Michael Boulos, chairperson for the Chemistry Department, spoke about the formation of retention ponds where students would be able to grow blue-green algae. Once harvested, the algae can be used to create a biodiesel.
"Students will be able to learn about the growing of the algae, the culture of the algae and those conditions, and then convert that into a fuel source," Boulos said. 
— NM
More Academics Articles