---
Cultural Spotlight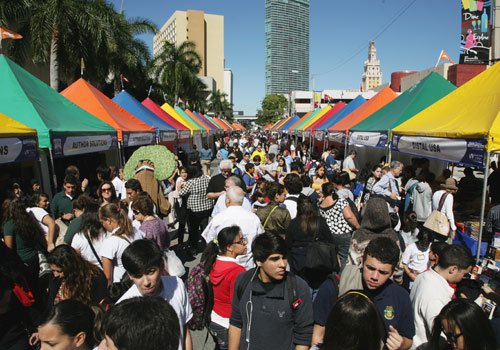 Book Fair to outshine itself, once again
The 27th edition of the Fair will take place Nov. 14-21 at the College's Wolfson Campus in downtown Miami. The popular Street Fair runs Nov. 19-21.
This year the Fair is also joining Mexico in celebrating the bicentennial of its independence as well as the centennial of the Mexican Revolution.
"The rich variety found in Mexican culture will be represented at this year's Fair," said Alina Interián, executive director of the Florida Center for the Literary Arts at MDC. "Visual arts, music, dance, film, theatre and, of course, literature. Our roster of Mexican authors will truly reveal the breadth and the depth of our neighbor's literary output."
The Fair, a national forerunner, is widely acknowledged to have been the model for other book festivals around the country, from Texas to California. This year it continues to raise the bar for excellence and innovation with a lineup of programs that will satisfy readers of all ages and all types.
"Evenings With," the centerpiece of the Fair, again will feature two author presentations on many nights. The renowned list of writers includes Harvard biologist and naturalist Edward O. Wilson, musician Patti Smith and novelist and memoirist Pat Conroy.
A crown jewel of Miami's cultural scene, the Fair each year presents more than 300 authors. This year, organizers have confirmed the attendance of tennis superstar Venus Williams; MacArthur Fellow and Haitian-American author Edwidge Danticat; screenwriter and author Nora Ephron; South Florida favorite Dave Barry; novelist Michael Cunningham; filmmaker John Waters; biographer and novelist Susan Cheever; humorist Ian Frazier; professional boxing doctor Ferdie Pacheco ("The Fight Doctor"); and NPR's All Things Considered host Michele Norris, as well as Ann Beattie, Kate DiCamillo, Emilio Estefan, Sebastian Junger, Jonathan Franzen and many others.
Focusing on Spanish literature
The IberoAmerican Authors Program will feature renowned names in Latin American and Spanish literature. From Mexico, organizers are expecting novelist and essayist Gonzalo Celorio; Jorge Volpi, a vibrant young literary voice; popular fiction writer Rosa Beltran; and Laura Esquivel, beloved author of Like Water for Chocolate, among others. Additional authors for the program include Rosa Montero (Spain), Alberto Fuguet (Chile), Eduardo Sacheri (Argentina) and musician Paquito D'Rivera (Cuba/USA).  
Over the past quarter century, the Fair has evolved to include varied offerings for children and teens. The wide spectrum of programs includes Student Literary Encounters — a program bringing thousands of schoolchildren to the Fair on Friday to attend author sessions, while also sending dozens of writers into schools. Another highlight is Children's Alley, a plaza dedicated to story-inspired activities.
Engaging Young Readers
"Student Literary Encounters is the Center's commitment to increasing literacy and the access to books in our community," Interián said. "With the support of corporate sponsors and private foundations, the Fair pays for buses to get kids here and buys books for all of them. Unofficially everyone refers to Friday as Kids' Day at the Fair because it's the day we dedicate to building the next generation of readers."
In the past two years comic and graphic novel fans have gotten their fix at the Comix Galaxy, a multifaceted component of the Fair that encompasses hands-on comics-making workshops at Kids Comic Con; educational sessions for teachers, librarians and parents at the School of Comics; exhibitions of original art; panel discussions with creators; and more. The School of Comics includes workshops for teens and adults that will cover everything from creating graphic novels to getting them published. Comix Galaxy also will feature a panel discussion featuring creators from DC Comics/Vertigo's graphic novel imprint.
"We are blazing a trail here at the Miami Book Fair, fusing traditional book culture with comics — we've had a really positive response from fans, and we are working hard to iron out the kinks from year to year," said Lissette Mendez, program coordinator. "Our goal is to deliver the best graphic novel programming east of San Diego Comic Con."
The first Miami Book Fair International, founded by Miami Dade College and community partners, took place in 1984. In 2001, the Fair became part of the Florida Center for the Literary Arts at Miami Dade College, a cultural and academic initiative promoting the advancement and appreciation of literature. It has been praised nationwide as the finest literary event in the U.S., and Tom Wolfe has called it the "literary Mecca of the Western World."
— NG
More Cultural Spotlight Articles