---
Features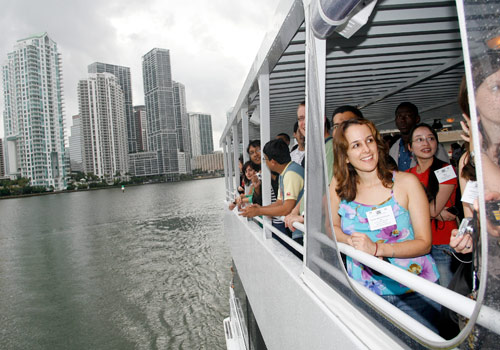 MDC is Fulbright's U.S. port of entry
Just as Miami has served for generations as the port of entry for people of all nations starting a new life in the United States, Miami Dade College has been the gateway for thousands of students from other countries as they embark on their academic careers in the United States. For the past seven years, MDC has hosted the Fulbright Gateway Orientation, giving international graduate students from around the globe their first introduction to U.S. life and academia before heading their separate ways to other top institutions throughout the nation.
From Argentina to Turkmenistan and Germany to Oman, more than 150 international graduate students recently convened for a weeklong program at MDC's Wolfson Campus. For many, this was their first impression of not only higher education but also life and culture here in the U.S. They found that the diversity of Miami made their transition a smoother one, they said.
"Miami is one of the world's best working models of cultural pluralism," said Laszlo Szekeres, a Fulbright student from Hungary who will be studying advanced computer science research at the State University of New York in Stony Brook.
In between attending workshops by MDC faculty on cross-cultural understanding, U.S. history, and the legal rules and academic procedures that international scholars must follow, the Fulbright students also had time to make new friends. After the Gateway Orientation lectures, they took a boat tour of Biscayne Bay and dined at The Knife at Bayside Marketplace and Nikki Beach in South Beach.
 "Miami Dade College has been wonderful in giving us such an enriching first impression of American life," said Tchinsala Yonmon, an education major from Chad who will be attending Southern Illinois University in Carbondale.
The Fulbright Program is the U.S. government's flagship international exchange program supported by the U.S. and partner countries around the world. The orientation at MDC is sponsored by the U.S. Department of State's Bureau of Educational and Cultural Affairs (ECA) and administered by the Institute of International Education (IIE).
Over dinner one evening, Haydée María Domínguez Tejo, a student from the Dominican Republic who will be attending Duke University to further her research in marine sciences, visited with Salah Al Battashy, an information technology and management scholar from Oman who will attend Florida Atlantic University in Boca Raton. Asking Al Battashy about his halal meal, Domínguez Tejo, who was raised Catholic, absent-mindedly concluded that it was the Islamic equivalent of kosher food. Realizing the cultural faux pas she had just made, she tensed up and was about to apologize when Al Battashy laughed and agreed with her comparison. He then said it was the last night before Ramadan, so for him that dinner was a feast, made all the more special by his new Fulbright friends.
"Things that are sensitive subjects like religion and politics – our supposed differences – we can actually sit here and laugh about them," Al Battashy said. "This is Fulbright for me: finding common ground to plant the seeds of friendship."
Robbi Grimm agreed. The English literature student from Germany who is heading to Tulane University in New Orleans added a bit of poetic imagery to his new friend's observations.
 "So many people from all over the world meet here, and everybody has their own story to tell," Grimm said. "Somehow, all our individual stories become interwoven here – the place where all the threads come together and create a new story. Some of these threads will remain linked to each other in lifelong friendships."
Fulbright Gateway Orientation Director Maureen O'Hara, who is an MDC English professor, knows from experience that Grimm is right; these friendships will grow.
As the scholars headed for the airport at the end of their MDC orientation, O'Hara wished them well.
 "By helping to bridge cultural, religious, ethnic, geographic and historical gaps across space and time, you've become a family of global proportions," she said. "You are now all part of the Fulbright family."
And they all met at MDC.
— HP
More Features Articles