---
Making Their Mark
Life-saving idea gets green light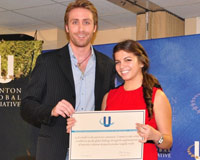 Clinton Global Initiative Award and grant winner Ximena Prugue receives her award from Phillippe Cousteau.
Ximena Prugue had an idea that she thought could save lives. All she had to do was find someone who would take her seriously.
After reading a design blog about new technology, the Miami Dade College student started the Giving the Green Light campaign to replace kerosene lamps used by the villagers in India with affordable and healthier solar-powered lights.
Outdated and dangerous, kerosene lamps are highly combustible and emit a poor-quality, eye-damaging yellow light. They generate fumes linked to lung cancer and cause
more than 1.8 million deaths a year worldwide due to respiratory infections.
After originally getting the runaround while trying to gain support for her idea, Prugue finally partnered with BoGo Light, a Houston-based solar light company.
"Because I'm young, some people tend to dismiss me like I'm naive," said Prugue, an engineering major who hopes to continue her education next year at Columbia University. "But this is not a side project to put on my résumé when I graduate. This is something I want to do, and I have shown I will put in the effort."
Started in December of 2009, Prugue's campaign captured the attention of political leaders, including recognition during the Clinton Global Initiative University event held in Miami this past spring.
Prugue also won a "Young Entrepreneur of the Year" award. She accepted her award – along with an elegant watch – in a recent ceremony in Los Angeles sponsored by Sony Pictures.
— WV
More Making Their Mark Articles