---
Cultural Spotlight
Using Dance to Develop Body, Mind and Soul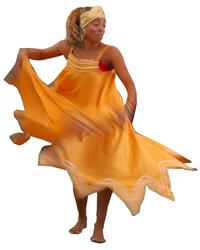 Promoting Afro-Cuban culture and folklore through the arts, MDC dance teacher Neri Torres cultivates her students' hearts and minds while teaching them to dance.
"One, two. Reach. Kick," she tells students in her Afro-Cuban dance class at Miami Dade College's InterAmerican Campus.
Neri Torres then takes a step to the left and quickly repeats the physically demanding instruction without a pause.
But her classes aren't just about working hard to create healthy bodies.
"The class creates a deeper understanding of diaspora dance forms," said Torres, who founded her Ifé-Ilé dance company 11 years ago to preserve, promote and cultivate Afro-Cuban culture and folklore through the arts.
"We take a historical and social look into these dances and explore how they continue to penetrate the main stream, from hip-hop to salsa and other dances."
While giving her students a great workout and important history lessons, Torres also helps them develop healthy minds through the joy of dance and the positive interpersonal connections that come from being creative together.
"There is a social aspect to our dance; it is part of celebrating life," Torres said. "In teaching it, we continue that tradition and also create cultural understanding."
— PUR
More Cultural Spotlight Articles