---
Making Their Mark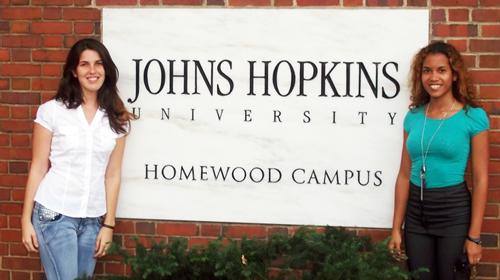 Dual Language Program's Dynamic Duo Catapult to Top
Claudia Ocampo and Camila Caunedo are two of the recent success stories of the Honors College Dual Language program, an innovative initiative offered only at MDC's InterAmerican Campus.
The program, which accepts only 75 students per year, challenges those chosen to be fully fluent in English and Spanish and able to conduct business in either language. This ability gives students advantages in today's global marketplace.
Ocampo and Caunedo are now studying at Johns Hopkins University, the famed research institution based in Baltimore.
Ocampo, a pre-med major with aspirations to be a doctor specializing in internal medicine, arrived in Miami four years ago from Cienfuegos, Cuba. She went to South Miami High School, where she found out about MDC's program.
"I had no idea how the educational system works in the U.S.," Ocampo said. "The Honors College program helped me learn how to apply to internships, other universities and graduate school."
Ocampo, who used that knowledge to land a research internship in ­Oregon this past summer, said the program had another benefit.
"It gave me confidence," she said. "The Dual Language program showed me that I'm smart enough to be whatever I want."
Caunedo, who is from Havana, also arrived in Miami four years ago and went to Barbara Goleman High before being chosen for MDC's program.
"I was very excited to be accepted," Caunedo said. "It was the best choice I could have made. Miami Dade has this mantra that 'opportunity changes everything.' And it's true. The program has given me so many options."
Caunedo, a biology major, said she wants to be a physician scientist, finding cures for diseases.
"The first time I walked into a lab, it was astonishing," Caunedo said. "I worked with cancer cells and saw how they multiply. It was the most amazing moment in my life. I want to do experiments in the lab and then see results in patients."
— WV
More Making Their Mark Articles