---
Academics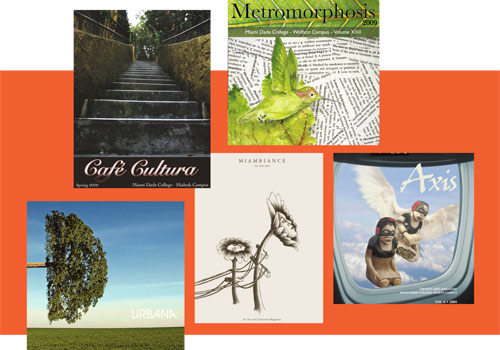 MDC student publications earn national awards
More than two decades ago, Miami Dade College's Wolfson Campus published the college's first student literary magazine. Metromorphosis, now in its 23rd edition, paved the way for four other unique literary publications created entirely by students.
The Kendall Campus magazine, Miambiance, also won a prestigious Pacemaker Award in the national Associated Collegiate Press competition and earned first place in the southern region of the Community College Humanities Association literary magazine competition.
At this year's Florida Community College Press Association's annual awards ceremony, all five student magazines received multiple recognitions, including 10 first-place awards.
John Muñiz, graphic designer for Hialeah Campus' Café Cultura, was among several MDC students who received Inner Circle of Excellence Awards as well. It was MDC's first green student magazine, printed with vegetable-based ink.
Each magazine has made its own mark. Last year, InterAmerican Campus launched Urbana, a bilingual, multimedia online magazine with viewers around the world.
At North Campus, the creation of Axis magazine has sparked an interest in writing courses.
"Creative writing classes have tripled," said Axis adviser and North Campus English Professor Elena Pérez-Mirabal.
While the magazines mainly draw in students studying English art and design, the opportunity is open to all, said Metromorphosis editor, Jessica Fadel.
"I'm a perfect example that you don't have to be an art or English major to be part of the magazine," said Fadel, a biology major who plays the piano, viola and oboe.
— SA
More Academics Articles