---
Alumni News
State Department internship points to career path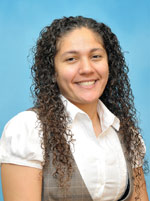 Lamise Alabed
Most learn from their mistakes, but Lamise Alabed learned by way of someone else's.
Three years ago, while waiting in line to pay her registration fee at Miami Dade College, Alabed was overheard speaking fluent Spanish.
When asked about her country of origin, she revealed to everyone's surprise her Arabic descent – born in Palestine. With her gift for languages and excellent academic record, she was immediately encouraged to apply to The Honors College at MDC.
"It shaped my goals and dreams. Before MDC, I had none," Alabed said. "MDC was the institution that opened my eyes to the outside world."
The outside world she got to see was Damascus, Syria. Selected for the State Department's Summer Internship, she worked in the Consular Section of Syrian capital's American Embassy.
"I learned the importance of having bilateral relations with other countries, but on a more personal level, I learned how to be more grateful for living in an amazing country with freedom and liberty to do and say what I please," she said.
Her experience as part of the Secretary General Priority Internship also cemented her decision to pursue a future in foreign services and fulfill her dream of eventually returning to her native country as a diplomat.
Her pivotal time at MDC proved invaluable in giving her focus and direction; she came to understand the essential role a strong academic support system plays in a student's life.
"MDC gave me the tools to move, not just academically, but socially, emotionally and mentally – the confidence to continue," Alabed said.
Now a North Campus Honors College graduate with an A.A. in political science, and a freshman at the prestigious Mount Holyoke, one of the Seven Sisters colleges, Alabed is currently pursuing a B.A. in Political Science with a minor in Middle Eastern Affairs.
— HP
More Alumni News Articles