---
Cultural Spotlight
Kendall Theatre, Shakespeare's Much Ado About Nothing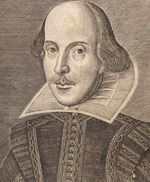 William Shakespeare
Much ado about a lot could very well describe the season now coming to its imminent, yet eminent end at MDC Kendall's Studio Theatre. Spanning in themes, eras and settings, from the satirized plight of an early 1980s Miami Cuban immigrant family in The Virgin of Little Havana, to Neil Simon's riotous first Broadway hit Come Blow Your Horn about brothers living the life in 1960s New York, to the trials and tribulations of a 1930s Irish family and town in assimilating one of their own after his 25-year absence in Dancing at Lughnasa, all are twined by a common thread of familial ties.
Family too comes into play in this season's closing production of Much Ado About Nothing. The much-beloved Bard of Avon comedy pits, as in much of the Shakespeare canon, woman against man and conversely in the perennial – and never more amusing – battle of the sexes, all against the backdrop of family relations, as some are about to forge a union while others are on the brink of dissolving. In this story set in the idyllic Sicilian town of Messina, lovers Claudio and Hero, who themselves are about to wed in a week, conspire with the Prince of Aragon and dear friend, Don Pedro, to trick the bickering Beatrice and Benedick into professing their repressed love for one another – obvious to everyone but themselves. But Don Pedro's illegitimate brother, Don John, has a different plan that jeopardizes both wedding and family relations, but makes for timeless comedy.
For more information, visit www.mdc.edu/kendall/mtd or call 305-237-2282/2203.
— HP
More Cultural Spotlight Articles