---
Cultural Spotlight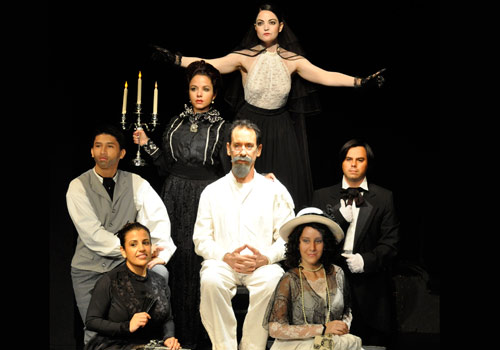 Teatro Prometeo lights a fire in Boston
Much like Prometheus molded humans out of clay and gave them fire, Prometeo Theatre has played a pivotal role in molding Miami's Hispanic talent throughout the years as well as bringing some of the best Spanish theater to the area.
At times this has seemed a daunting task truly worth of its namesake titan from Greek mythology – especially in times of economic hardship like the present. But that has not deterred Prometeo from making gigantic strides not only in the local arena but both in the national and international as well, all under the auspices of the Florida Center for the Literary Arts (FCLA) at Miami Dade College.
"It has always been our mission at FCLA to promote literature and the word in all its forms – including from page to stage," said Alina Interián, executive director of FCLA.
Living up to this promise, the theater company took its latest production Chejov vs. Chejov, written and directed by Prometeo instructor Jacqueline Briceño and performed by the actors and students from Prometeo's Professional Training Program, to the prestigious New England Russian Theatre Festival in Boston, where it won the Audience Choice Award for Best Ensemble Performance.
"This was a huge honor for us, since we were the only non-English speaking theater company to perform at the festival," said Joann María Yarrow, Teatro Prometeo's artistic director. "Not only did we get to perform our play in Spanish with English supertitles, but the play itself was actually published in both Spanish and English."
Aside from being interviewed by two local Boston television shows, the cast was also able to attend three workshops in Russian theater technique as part of the festival, to which Yarrow also contributed with an interactive workshop titled Breaking Cultural Barriers in Performance.
But Prometeo is not resting on its laurels. It has been gradually moving into a new phase of expansion in its curriculum, featuring Acting for the Camera classes for television and film, with an aim toward more comprehensive training in its program – and a more viable future for its graduates.
"At Prometeo we want to offer an experience as diverse and ample in scope and breadth as our students and audiences," Interián said.
The way to achieve this? An equally versed staff.
"We are blessed with exceptional instructors who are consummate professionals in their fields, all respected artists currently active in the industry, offering an unrivaled training experience to our students," Yarrow said.
Teatro Prometeo is the oldest college Spanish-language theatre program in the nation.
— HP
More Cultural Spotlight Articles