---
Cultural Spotlight
Past and present on display at MDC Freedom Tower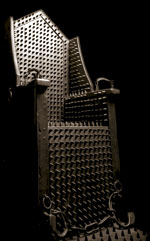 Inquisitional chair
After months of anticipation, the Instruments of Torture – Through the Ages exhibition is finally opening its doors at Miami Dade College's historic Freedom Tower. As one of the highlights of what has already been an outstanding year for the college's Art Gallery System (AGS), this internationally touted exhibit – on loan from the Museo Medieval in Italy – brings to Miami items gathered from all over Europe, dating back to the 16th and 17th centuries in a venue that could not be more appropriate. The collection's curators purposely chose MDC's Freedom Tower because of the building's unique history as a refuge for immigrants and especially former Cuban political prisoners who had been subjected to inhumane treatment and torture. It is in this setting that Instruments of Torture's statement against totalitarian systems becomes unequivocal as a dire call to protect human rights worldwide.
Making its own equally powerful artistic statement is Faces – 100 Cuban Artists. This exhibition, also at the Freedom Tower, has been conceived as a documentation and homage to the Miami-based community of visual artists who, with their arrival beginning in the 1960s and up to the present, have helped define our city's image both in the national and international art scene. Local photographer Carlos Manuel Cárdenes has captured, in 100 unforgettable images of these artists and their works, the wide scope and range of diverse and exceptional talent, all connected by a place, a time, and a single experience as exiles.
Italy's most ancient past also beckons from the Freedom Tower for a unique opportunity to immerse ourselves into the illustrious civilization that eventually paved the way for Ancient Rome. The Etruscans in Latium encompasses nearly seven centuries and features artifacts from collections never before seen by the public, all in view for the first time in South Florida. Most of what is known about the Etruscans, who occupied the areas of modern-day Umbria, Lazio and Tuscany during most of the first millennium B.C., derives from archeology and tainted accounts by ancient Roman historians. This once-in-a-lifetime exhibition is presented under the patronage of the Consulate General of Italy in Miami.
— HP
More Cultural Spotlight Articles