---
Alumni News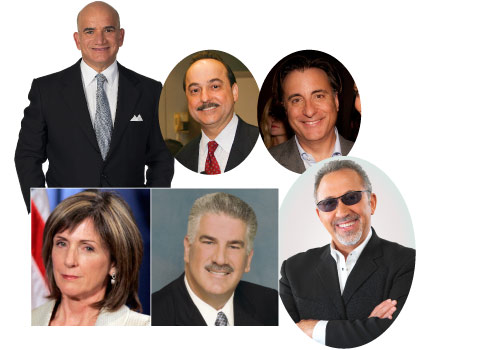 MDC alumni celebrate success across the board
It proved to be quite an exciting year for MDC alumni in a variety of industries.
Building upon the MDC belief that opportunities are limitless when paired with education and determination, two alumni wrote and published books on the obstacles they overcame to achieve success.
In The Rhythm of Success: How an Immigrant Produced His Own American Dream, Emilio Estefan recalls the lessons he has learned from the time of his arrival in Miami as a young Cuban refugee through his career success as a 19-time Grammy Award-winning producer and songwriter. The book, which was released in January, encourages immigrants to achieve success on their own terms.
Alumnus Ralph de la Vega, who is the president and CEO of AT&T Mobility, approached a similar topic from a different perspective in his book Obstacles Welcome: How to Turn Adversity into Advantage in Business and in Life. De la Vega, who came to the U.S. from Cuba when he was only 10, overcame poverty and language barriers as he climbed his way up the corporate ladder within the telecommunications industry.
Also kicking off the year with a major success was Rodney Barreto, who was a chairman of the 2010 South Florida Super Bowl Host Committee. With approximately106.5 million viewers, this year's Super Bowl broke records for the most-watched program of any kind in U.S. history. Another Super Bowl record was set this year when Miami served as host city for the 10th time, outpacing all other host cities.
In the realm of film, Andy García achieved wide critical acclaim with the March release of City Island, which he produced. With García playing the leading role of Vincent Rizzo, a corrections officer who is secretly studying acting, the film shows the impact secrets can have on a dysfunctional family. Starring alongside García is his daughter, Dominik García-Lorida.
Having a dramatic impact on the national stage, MDC alumni took on important government roles as well. Carol M. Browner, who was administrator of the U.S. Environmental Protection Agency from 1993 to 2001, was appointed by President Barack Obama to serve as the new White House Coordinator of Energy and Climate Policy.
In local government, earlier in the year, Carlos Migoya was chosen as manager of the City of Miami. With a career in banking that spans four decades, Migoya now is taking on the task of tackling budgets as the city faces large financial challenges.
— NM
More Alumni News Articles