---
Cultural Spotlight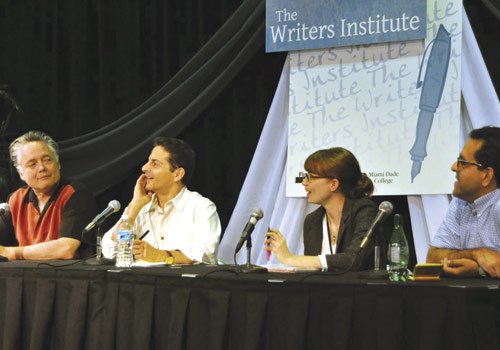 Pitch perfect
Imagine you're an aspiring writer with a great idea for a book. You step onto an elevator and there stands not one, but four literary professionals. You've got one minute to pitch your idea before the elevator door opens and your opportunity walks out the door. What would you say?
That was the situation in which the participants at the Writers Institute's Pitch-O-Rama found themselves. Instead of meeting in an elevator, they faced a panel of publishing industry professionals, comprised of book reviewer and cultural critic Chauncey Mabe; Miami Herald book critic, MDC English Professor and Huffington Post contributor Ariel González; and New York-based literary agents Moses Cardona and Eva Talmadge.
Combining elements of a Toastmaster's meeting with the spirit of a game show (participants were under a one-minute time limit), approximately 20 would-be authors took part in this year's free Pitch-O-Rama. The pitches covered the gamut in topic and genre, ranging from family and personal memoirs to essays and self-help books, from works designed for young adults to picture books for children.
The panel encouraged the participants to be focused and direct. "Don't beat around the bush," advised González. "We want to know what your story is about and what sets it apart from other stories."
One thing is for sure: The next time that elevator door opens, participants in the Pitch-O-Rama will be ready to stand and deliver that perfect pitch.
— NG
More Cultural Spotlight Articles