---
Features - MDC Grads
Speaking up for others: Bárbara Cabrera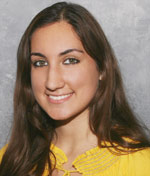 Bárbara Cabrera
Political science major Bárbara Cabrera, a recent graduate of the Kendall Campus Honors College, developed a calling for justice thanks to her family and the experience of being an immigrant.
"I grew up listening to stories of hardships, about my father being a political prisoner [in Cuba], and it made me want to stand up for people who can't speak for themselves," Cabrera said.
After graduating from Southwest High School summa cum laude, she turned down scholarships from several universities because she wanted to obtain the more well-rounded education that MDC's Honors College offers, she said.
Cabrera, who served as student government president at the Kendall Campus, earned an associate's degree in political science with a 3.67 GPA. Having received a full scholarship from the University of Virginia, she is transferring there this fall to study international law.
In addition to her academic achievement, Cabrera, 20, has devoted many hours to helping others. Most recently, she was event chair for the 2010 Relay for Life at the Kendall Campus, helping to raise more than $5,000 for cancer research.
In 2009, she was awarded the President's Volunteer Service Award for completing more than 250 community service hours.
"It has been an amazing experience. I don't know that I would have had so many opportunities at another school," Cabrera said.
— SA
More Features - MDC Grads Articles