---
Cultural Spotlight
Route to Human Rights Starts at MDC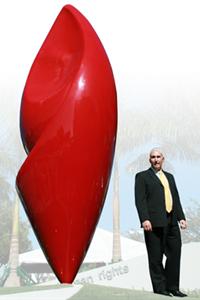 Artist Mauro Arbiza stands beside his sculpture "Elevación," which is on display at MDC's InterAmerican Campus.
International Solidarity for Human Rights (ISHR), a nonprofit organization dedicated to the promotion of human rights through arts education, recently chose Miami Dade College to launch its ambitious Route to Human Rights multimedia project.
ISHR's project places artwork created by local and international artists at 30 locations throughout the state, including all eight MDC campuses. Each piece represents a different article of the Universal Declaration of Human Rights.
"The college was very receptive to the project," said Elizabeth Sánchez Vegas, an ISHR executive board member. "And if an institution as big and important as MDC tells you 'yes,' who's going to tell you 'no'?"
Adopted by the United Nations General Assembly 62 years ago, the Declaration's articles represent the rights to which all human beings are entitled.
"People just don't know what these rights are," said Sánchez Vegas, adding that this project will go a long way toward ISHR's goal of helping inform the public about those rights.
For its inaugural piece, the organization chose Article 19, which states: "Everyone has the right to freedom of opinion and expression."
This inspired Uruguayan artist Mauro Arbiza to create the 16-foot sculpture Elevacíon (Elevation), which is now on display on MDC's InterAmerican Campus.
"The International Solidarity for Human Rights' mission is to educate through the arts, so this article was an ideal beginning," Sánchez Vegas said. "And MDC's mission is to educate, so it was perfect."
There was another benefit to having MDC back ISHR's vision, Sánchez Vegas said. "It's the largest institution of higher education in the country so, if you think about the students exposed to this knowledge who will take it home to their families, we can reach almost 1 million people right off the bat."
— PUR
More Cultural Spotlight Articles