---
Making Their Mark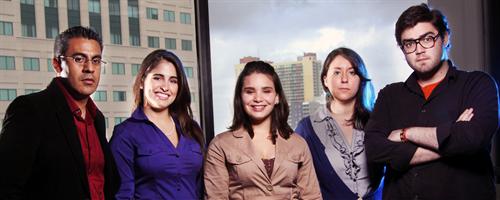 Award-Winning Student Newspapers Merge to Form State's Largest
Miami Dade College's three award-winning student newspapers merged recently to create The Reporter, the largest community college newspaper in Florida, with a circulation of more than 10,000 copies. The MDC newspaper recently won 24 awards – seven of which were first place honors – at the Florida Community College Press Association's (FCCPA) annual convention in Ocala. MDC's well-established tradition of strong journalism dates back to 1961, with the founding of The Falcon Times, MDC's first student newspaper.
The Reporter, which offers an enhanced Web presence and has newsrooms at MDC's Kendall, North and Wolfson campuses, will be able to bring a wider variety of information to a greater number of people.
"There are many great opportunities for students interested in working in journalism," said Manolo Barco, advisor to The Reporter. "They can be reporters, photographers, editors or videographers."
The size and flexibility of the larger newspaper will help prepare students for today's rapidly changing media industry, Barco said.
Monique Madan, a journalism and mass communications major in the Honors College at the North Campus and a recent intern at The Miami Herald, serves as editor-in-chief of The Reporter.
"It's a privilege to be charged with continuing the legacy of the student newspapers at MDC," Madan said.
— JD
More Making Their Mark Articles