---
Making Their Mark
Carnegie Foundation Honors MDC Professor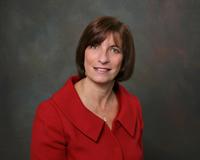 Elizabeth Nicoli-Suco
For the second year in a row and the fourth time in the past decade, a Miami Dade College educator has been named Florida Professor of the Year.
The 2010 award was given out by the Carnegie Foundation for the Advancement of Teaching and the Council for the Advancement and Support of Education to Wolfson Campus math professor Elizabeth Nicoli-Suco.
"This is an incredible honor," said Nicoli-Suco. "It's great to know that all my work over the years is appreciated."
A recipient of MDC's Simón Bolívar Endowed Teaching Chair, Nicoli-Suco has a proven track record of motivating students of all levels. Her philosophy on education is based on the belief that each student is unique and must be treated with respect.
Nicoli-Suco was also recently selected as a participant in the Global Skills for College Completion Project. She and 25 other math and English professors from various community colleges are working on ways to transform how math and English are taught throughout the United States.
Miami Dade College has a proven track record of excellence in the high-quality education its faculty provides. Other Florida Professors of the Year from MDC have been Alberto Meza, in 2003; Dr. Ana Cruz, in 2005; and Dr. Sandra Schultz, in 2009.
"Every day, I feel like I am surrounded by colleagues who are, in my book, all 'Professors of the Year'," Nicoli-Suco said.
— WV
More Making Their Mark Articles