---
Making Their Mark
MDC Dean to Lead National Association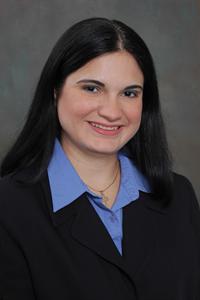 Dr. Leonore P. Rodicio
Dr. Leonore P. Rodicio, dean of Academic Affairs at Miami Dade College's Kendall Campus, was recently named president-elect of the Association for General and Liberal Studies (AGLS), an organization that fosters strong general education programs in colleges and universities.
"It's an honor to represent community colleges and highlight the role they play in education," Rodicio said of the prestigious, 50-year-old organization, which recently expanded its membership to include community colleges.
The Miami native, who received a doctorate's degree in chemistry in 1999, originally wanted to be a research scientist. But when she taught a class as an adjunct professor at Miami Dade College in 2002, she got hooked on teaching.
"I just loved working with the students," she said. "And I loved seeing how this institution transformed their lives."
After a semester, she became a full-time faculty member. Then, she became chair of the Department of Natural and Social Sciences at the InterAmerican Campus in 2007, later taking on her current role as dean in January 2010.
Rodicio recently began the six-year presidential cycle at AGLS, an organization from which she received the Exemplary Program Award for General Education in 2008 on behalf of MDC.
"My appointment really speaks to the growing influence of community colleges in student education," Rodicio said.
— PUR
More Making Their Mark Articles