---
Cultural Spotlight
Choreographer's Residency Inspires Students, Community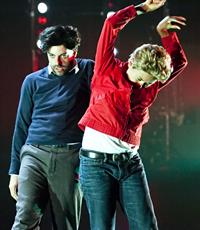 Miguel Gutierrez and The Powerful People
Thanks to Cultura del Lobo's educational residency program at Miami Dade College, the local community gets much more than just great performances through this renowned cultural series. This spring, students and faculty at the College and the New World School of the Arts along with local professional performers are getting the opportunity of a lifetime to learn from critically acclaimed dancer and choreographer Miguel Gutierrez.
There are many reasons why he has been inspired to teach at MDC, Gutierrez said.
"Because it is a practice of generosity," he said. "Because it connects me to the pleasure of dancing. Because I like to create a space of learning and challenge. Because I believe in transformation, and because I believe it is humbling."
A native of Brooklyn, N.Y., Gutierrez has taught workshops around the world, imparting knowledge on dance technique, composition and the entire creative process.
His new piece, The Last Meadow, won him a prestigious New York Dance and Performance Award, an annual honor known informally as a Bessie in honor of the late Bessie Schonberg, a dancer, choreographer and teacher. Gutierrez and his dance troupe, called The Powerful People, recently performed this winning work during Cultura del Lobo's spring performance series at The Colony Theater in Miami Beach.
Gutierrez has also received a Guggenheim Fellowship, awarded annually to those who have demonstrated "exceptional capacity for productive scholarship or creative ability in the arts."
And now, through Cultura del Lobo, students, faculty and the community throughout South Florida are benefitting from the lessons and art of this fine scholar, choreographer and dancer.
— WV
More Cultural Spotlight Articles