---
Alumni News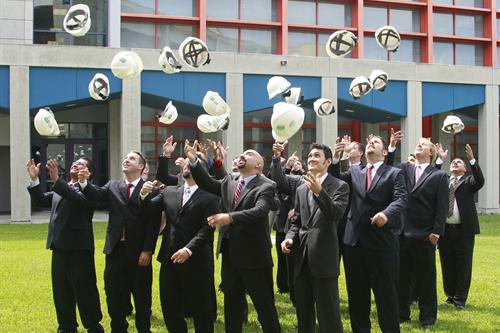 Alliance Lights Way to Energy Jobs
In response to the challenges students face in the job market, Miami Dade College continues to develop effective ways for them to transition seamlessly out of college and into work. A shining example is MDC's Electrical Power Technology program, which recently provided graduates a bright future with Florida Power & Light (FPL).
Along with their diplomas, students received full-time jobs with FPL at their graduation ceremony at the College's Homestead Campus, where Dr. Jeanne Jacobs, Homestead Campus president, and Turkey Point Nuclear Power Plant Vice President Mike Kiley presented them with official letters of employment – and their first FPL hard hats.
Having completed the two-year program, which focused on power plant operations, technologies and management, these graduates are now embarking on high-tech careers in the energy sector through this unprecedented initiative. In addition to hands-on training and attractive benefits, they can expect an entry-level salary of about $55,000 per year.
As the fourth graduating class of this three-track Associate in Science degree program, the Class of 2011 joins a total 55 graduates hired full time by FPL since the program's inception. Also worth noting are 21 current FPL employees who have graduated from the program with enhanced technical skills.
"In partnership with FPL and with grants from the Nuclear Regulatory Commission, the U.S. Department of Energy and the National Science Foundation, this program effectively responds to the actively growing need for employees trained in the latest energy technologies," said Dr. Richard White, director of MDC's School of Engineering and Technology.
— HP
More Alumni News Articles