---
Cultural Spotlight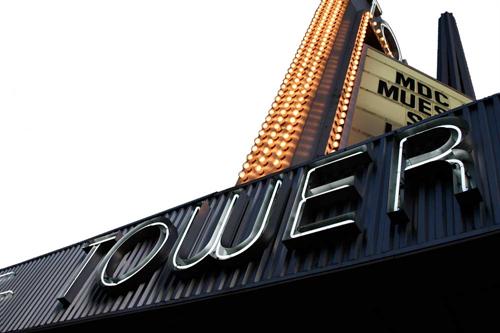 MDC Brings Cinema Classics to Miami
Local movie lovers have long been flocking to MDC's Tower Theater, a historic haven in the heart of Little Havana where the best films from around the world always find an eager audience.
Now film fans have even more reason to celebrate their passion for fine cinema, as Tower Theater and Miami International Film Festival at MDC have embarked on a new collaboration to bring even more stellar works to South Florida.
This endeavor was responsible for Tower Theater's recent Federico Fellini film retrospective, featuring cherished classics such as La Strada, 8½ and I Vitelloni. Rarely seen on the silver screen, these viewings were a treat for film lovers.
The seven-film retrospective was complemented with At the Table With Fellini – The Exhibition, a special display of the legendary filmmaker's memorabilia. On view for the first time in the United States, the exhibition featured napkins from restaurants in Rome that Fellini used to scribble beginnings of ideas and sudden inspirations for his films, offering a new view into his creative process and personality.
Another exclusive engagement was the sold-out screening of Pearl Jam Twenty, a documentary directed by Academy Award-winning filmmaker Cameron Crowe, chronicling the rock band's formation, megastardom and voluntary retreat from center stage.
In addition to these extraordinary offerings, Tower Theater is also collaborating with Alliance Française to present a French Cinema Mini-Series, featuring recent films from France throughout the fall season.
"Between the Miami International Film Festival and the historic Tower Theater, MDC leads the way in the promotion of art films in South Florida," said Orlando Rojas, Tower's manager and film programmer. "As an educational institution, the impressive work it does in this regard is incomparable, even at the national level."
Tower ranks Among Top 10 Theaters
USA Today recently touted MDC's Tower Theater among its "10 great places to see a movie in splendor." Praised as a historic venue that still serves as a gathering place for the community, it was the only theater from the southeastern United States featured in the Top 10 list. The other nine historic gems were:
The Brattle Theatre, Cambridge, Mass.
Byrd Theatre, Richmond, Va.
The Castro Theatre, San Francisco
Cinerama, Seattle
The Egyptian, Los Angeles
Inwood Theatre, Dallas
Music Box Theatre, Chicago
State Theatre, Traverse City, Mich.
Ziegfeld, New York
— HP
More Cultural Spotlight Articles