---
Features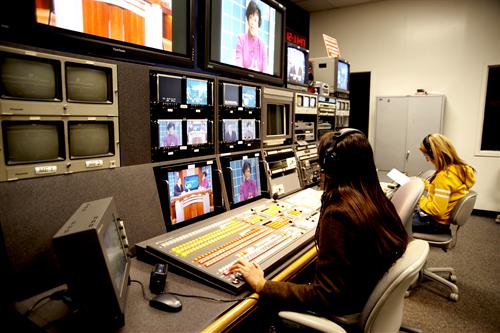 Top-Notch TV Worth Watching
Few college facilities in the country top the state-of-the-art, broadcast-quality television studios at Miami Dade College's North and Homestead campuses, where students can gain real-world experience and be a part of the talented studio crew at MDC TV, the College's broadcast network. 
MDC is one of the only colleges in the nation with its own television station. MDC TV broadcasts its programming daily to more than half a million households across Miami-Dade County through local cable and satellite. With the addition of MDC TV's live streaming video website and video-on-demand, the College's original programming has the ability to reach a viewing audience of truly global proportions. 
Students have the opportunity to get practical experience in a TV studio in all areas of production and on a working channel with a large audience. Shows are produced in English, Spanish and Haitian Creole. 
"MDC TV is a great asset to the School of Entertainment & Design Technology (SEDT) as it serves as a professional training ground for students earning an associate degree in television production," SEDT Director Barry Gordon said. 
"Having the opportunity to work in a broadcast television network not only provides our students with hands-on training in state-of-the-art facilities, but it also provides them the opportunity to build their production portfolio, giving them the competitive edge when seeking employment in the industry."
— HP
More Features Articles