---
Features
Baseball is Family Affair at MDC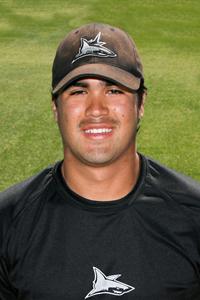 Ozney Guillén plays for the MDC Sharks baseball team.
Ozzie Guillén will make his debut as Miami Marlins manager in 2012, but another member of the family is already making his mark on the Florida baseball scene, at Miami Dade College. 
Ozney Guillén, 19 and the youngest of the manager's three sons, spent last season as a freshman starter on Miami Dade College's baseball team, helping the Sharks at numerous positions, including first
base, third base, designated hitter and outfield. 
Now a 6-foot-3-inch, 205- pound sophomore, Guillén is proud of his father's success, which includes winning two World Series: one as manager of the Chicago White Sox (2005) and the other as an assistant coach for the
Marlins (2003).
Carving His Own Path
But the youngest Guillén, who was a four-year starter at Monsignor Edward Pace High School before arriving at MDC, wants to succeed in baseball on his own merits. 
"Ozney doesn't want roads to be opened for him because of his dad," said MDC baseball coach Danny Price. "He handles things much better than I would have at his age." 
Price said Guillén figures to batin the middle of the MDC lineup in 2012. 
Selected by the Chicago White Sox in the 22nd round of the 2010 draft, Guillén is also determined to be the Sharks'
third baseman.
Looking Ahead
After the 2012 season, Guillén said he is interested in studying international business. 
But if he gets a good offer from a professional team after the June draft, he will explore that option as well. 
Either way, Guillén said he has worked hard to put his career on track. 
"I feel I've earned my teammates' respect," said Guillén, who was born in Caracas, Venezuela, and moved to Miami in the sixth grade. "I've shown I'm one of the guys, not just a celebrity's son."
— WV
More Features Articles