---
Academics
Reaching Their Full Potential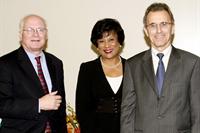 Speakers at the Hispanic Children's Educational Symposium included, from left,David Lawrence Jr., Dr. Jeanne F. Jacobs and Dr. Eduardo Ochoa.
Championing the development of all students into successful graduates and citizens, Miami Dade College recently hosted the Future of Hispanic Children educational symposium, a call to action to support Hispanic children in reaching their full potential and to find strategies to increase their educational success.
Renowned experts in child welfare convened at MDC's Homestead Campus to talk about the needs of Hispanic children in their early years, as well as the importance of post-secondary education, and strategies to improve the prospects of Hispanic youth.
Assistant U.S. Secretary of Postsecondary Education Dr. Eduardo Ochoa highlighted the government's initiatives to facilitate Hispanic student success and college completion. Early Childhood Initiative Foundation Founder and President
David Lawrence Jr. discussed the early developmental needs of Hispanic children while Children's Trust President and CEO Modesto Abety-Gutiérrez focused on state and local programmatic strategies and interventions to address the critical educational needs of Hispanic children and youth.
"These distinguished speakers provided us with a greater understanding of the need to transform education, which is vital to the strength of our nation," said Homestead Campus President Dr. Jeanne F. Jacobs.
— MR
More Academics Articles