---
Features
NWSA Helps Student Overcome Disease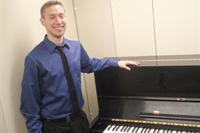 Professors at MDC's New World School of the Arts helped Frank Martin Verdejo-Chica develop his talents, giving him the courage to deal effectively with Tourette's Syndrome.
As every ambitious singer knows, excelling as a performing artist is tough work. For MDC New World School of the Arts student Frank Martin Verdejo-Chica, that dream of succeeding on the stage seemed even more difficult to achieve once he was diagnosed with Tourette's Syndrome.
But, with the help and encouragement of his professors at NWSA, the 19-year-old aspiring opera singer discovered something quite magical when he watched tapes of his performances.
The Beauty of Music
"When I sing, I don't tic at all," he said. "That helped me realize that the career path I had chosen is perfect for me. Even if I only make one penny, I will sing forever."
Verdejo-Chica was 16 when he first experienced the vocal, facial and body tics associated with Tourette's. He soon found that artistic and athletic endeavors, including singing and running, helped control the tics.
There was just one major problem with the creative approach to solving his problem: "My singing was down to the ground awful," he said.
The Power of Determination
Verdejo-Chica said he made a promise to himself the day he got sick that he would get better – a vow he has kept. He has run three half-marathons (13.1 miles each) and has a 3.76 grade-point average at NWSA.
His academic prowess and his now-stellar singing have helped him earn several scholarships, and he is more than halfway toward completing a bachelor's degree at New World.
He said the school has helped him by allowing him extra time to complete tests, thus relieving stress that might bring about tics, which he said are much less frequent now.
"My tics can pop up out of nowhere," he said. "Tourette's is pretty rare – one in 3,000. I believe I was chosen for a reason. Other people would have quit or not gone to school. Not many would have accomplished what I have."
With the guidance he received at the New World School of the Arts at Miami Dade College, Verdejo-Chica is now well on his way to academic and artistic success.
— WV
More Features Articles