---
Academics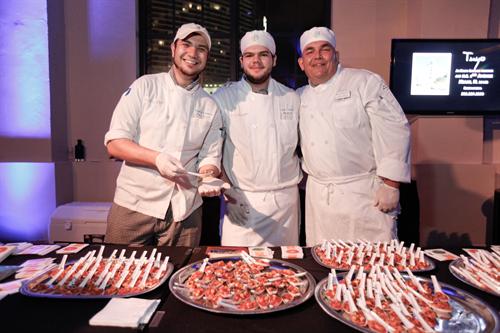 Culinary Students Sharpen Their Sizzling Skills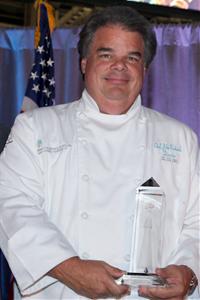 MCI Director John Richards accepted the esteemed Education Award on behalf of the Miami Culinary Institute at the Beacon Council's 10th annual awards ceremony.
Blending its contemporary curriculum with hands-on learning opportunities, Miami Culinary Institute (MCI) at Miami Dade College is churning out graduates with in-demand skills for exciting careers in the culinary arts and hospitality fields.
Students have had the opportunity to show off their talent at a number of prestigious local events, working side by side with top professionals and renowned chefs to expand their culinary repertoire while refining their abilities.
They have devoted late nights along with long weekends to local fundraising galas and high-profile events, often at the request of event organizers who are excited to partner with MCI's talented students.
For example, students continued their real-world education at Baptist Health Foundation's fifth annual Pineapple Sauté & Sip Interactive Dinner, where they served as sous chefs for the fundraising event benefiting the Baptist Health Breast Center's CareCoach Program. MCI students assisted celebrity chef Ingrid Hoffman in preparing a bevy of gourmet dishes and interacted with guests who included more than 500 distinguished community leaders.
"It is very important for our students to feel the impact of their work in the community," said Chef John Richards, director of the Miami Culinary Institute. "The experience they gain working at these events is immeasurable. They wouldn't get that within the four walls of a classroom – they interact with people, see their smiling faces and get to hear the feedback about the food and the quality of service."
Since the Institute's opening little more than a year ago, MCI students have participated in numerous top community events, including Miami International Film Festival, Miami Book Fair International and South Beach Wine & Food Festival, in which they prepared more than 14,000 servings for various festival events attended by throngs of people.
"The other wonderful benefit of all this involvement is it gets the students in front of their potential employers," Richards said. "It gives them a chance to network and establish relationships with restaurateurs and other well-connected industry professionals."
Job Creation Efforts Awarded
MDC's Miami Culinary Institute was recently awarded the esteemed Education Award from The Beacon Council in recognition of its outstanding commitment to both community development and job creation in Miami-Dade County. At right, MCI Director John Richards accepted the award on behalf of the Institute at the Council's 10th annual awards ceremony.
— AMS
More Academics Articles