---
Making Their Mark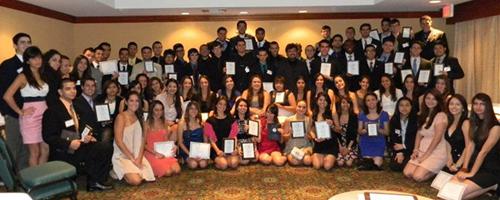 Students Capture Awards for Business Acumen
Miami Dade College students won numerous top awards for their business savvy at the recent Phi Beta Lambda (PBL) 2012 State Leadership Conference in Tampa.
More than 100 students from the Kendall, North, InterAmerican and Wolfson campus chapters of the business student organization participated in the stiff competition against students from colleges and universities across the state. Their performance extended an impressive track record the college's PBL members had for years.
Demanding Courses
"These awards show Miami Dade College has one of the most academically stringent business programs in the state," said MDC Professor María Mari, a PBL advisor who teaches business courses at Kendall Campus. "It tells you about the dedication of our students."
Fifty top winners from MDC are expected to go on to represent Florida at the 2012 PBL National Leadership Conference in San Antonio, Texas, in late June.
The annual conferences test students' skills in a variety of events including written tests and impromptu case studies presented to a panel of judges from business and industry. In addition to the intense competition featuring cash prizes, the gatherings give students a chance to gain leadership experience and participate in workshops on professional development and career planning.
Mixing Majors
MDC students in Phi Beta Lambda represent diverse academic disciplines. The Kendall chapter, for example, includes science majors, and for a very practical reason.
"We believe it's important for them to understand business, because business pays for their research," Mari said.
A project reflecting that philosophy earned a team from Kendall Campus a first-place finish in the Free Enterprise category at the state conference. Daniel Cabrera, a biochemist, and Gabriel Crespo, a marketing major, won top honors for "The Economic Effect of Scientific Discovery," a series of workshops showing how scientific research needs corporate dollars, and corporations, in turn, need scientists to develop new products.
"Innovation and invention fuel the free market engine," Mari said.            
— Staff Report
More Making Their Mark Articles