---
Making Their Mark
Soprano Found Her Voice at MDC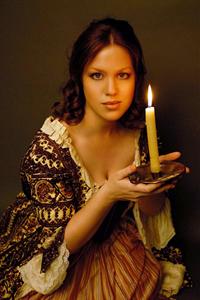 Elizabeth Caballero
Back when she was a member of her high school's glee club, alumna Elizabeth Caballero never imagined she would someday become a renowned globe-trotting opera singer.
"When I graduated, I was oblivious as to what I wanted to do," said the soprano, who has earned rave reviews for roles in performances around the country and abroad. "It was MDC that really introduced me to what I wanted to do in life."
Already heading to MDC on merit-based scholarships, Caballero took the advice of her glee club choreographer and auditioned for the College's own glee club – ultimately a fateful decision.
"I always enjoyed singing, always got the solo. I knew I had some sort of talent and enjoyed it," said Caballero. At Miami Dade College, voice instructor Dr. Beverly Coulter nudged her toward opera. Caballero took up singing lessons at the College and sang her first operatic aria, from La Bohème. "I fell so in love with it."
Since her time at MDC, Caballero's career has reached the stars. She has performed at the Metropolitan Opera, New York City Opera, San Francisco Opera and Florida Grand Opera, as well as in Europe and South America.
This month, Caballero makes her role debut as the protagonist of Madama Butterfly in Kansas City. "It's been a nice and exciting ride."
— MR
More Making Their Mark Articles