---
Academics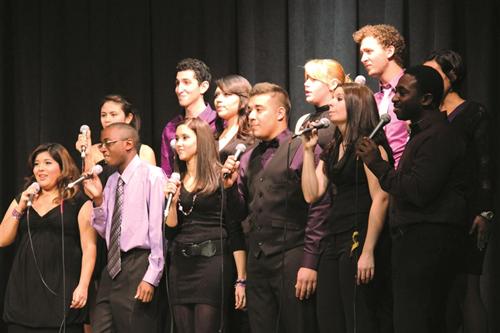 Perfect Pitch
The emotive energy of teenage youth is being heard loud and clear this fall as Miami Dade College launches its new Kendall Campus Choral Academy for high school students, in partnership with the Civic Chorale of Greater Miami.
With arts programs perpetually targeted in budget cuts in South Florida and nationwide, vocal programs are dwindling and many high schools have eliminated them altogether. Established thanks to donations and College program development funds, the Choral Academy is helping to fill that void for teens while enabling them to earn college credits and get a taste of college life.
New Options for Teens
"There are a number of choral programs in the community for elementary children, but high school kids have very few options," said MDC Professor Ken Boos, who founded the Academy and also serves as artistic director for the Civic Chorale, a 65-voice community choir that meets regularly at the College. "Students are not always getting the experience they need at the high school level, and we want to prepare them to be college ready."
As music programs diminish in schools, Boos has worked tirelessly to give children in South Florida alternate means of exposure to music. In 2001, he was instrumental in establishing the Music Learning Center at North Campus, where children in the community can pursue preparatory studies or simply become familiar with musical foundations.
A Learning Crescendo
As a preparatory school, the Academy will build solid foundations for students intent on pursuing vocal studies in college. "In choir it's about learning vocal skills, how to read music, sight reading," said Boos. Once they master the basics, courses in vocal technique and music theory will give the young singers secure footing for success at the college level.
To further ease the transition, Boos and Academy Director Dr. Timothy Brent are raising funds for scholarships to carry students through their time in the Academy and into MDC.
"As we grow, we can offer more and more selective experiences for those students as they advance," said Brent, who coordinates the jazz vocal program at Kendall Campus. "Right now we want to give a place to sing to those who no longer have one."
— MR
More Academics Articles