---
Features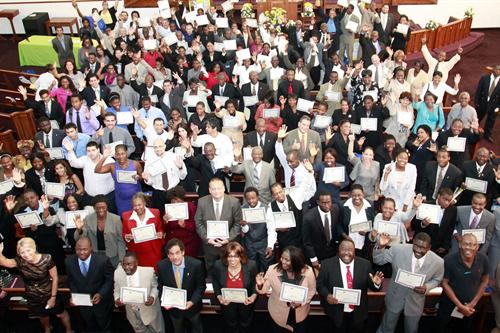 Opening the Doors of Opportunity
The Hospitality Institute at Miami Dade College is reaching an ever-wider audience with its Hospitality Job Readiness Training Program and Job Fair. Started five years ago by the Institute as an initiative of the College's International Hospitality Center, this workforce readiness program was designed to provide inner-city residents with a bridge to jobs in the local hospitality industry.
Expanding Program's Reach
The September event attracted hundreds of participants from all walks of life, about 40 percent more than attended a similar program three months earlier. Randy Wiscombe, workforce specialist manager with the Institute, attributed the increase to word getting out about the success of the program, which is offered at no cost to residents in some of the city's most disadvantaged neighborhoods.
"We reach out to the community," he said of the training geared to meet a demand for workers in South Florida's largest industry. Statistics still were being tallied for the fall program, but Wiscombe said the previous event resulted in more than 50 people being hired for full- or part-time jobs.
Improving Odds for Success
The training sessions are led by hospitality industry experts, MDC faculty and motivational speakers. Topics covered include hospitality training, customer service, food handler certification, resume writing, interviewing techniques, dining etiquette, professional attire and financial literacy. Participants also get information on educational opportunities such as GED certification, MDC admissions and college financial aid and scholarships.
The four-day session concluded with a graduation ceremony followed by a job fair with dozens of local employers such as the Fontainebleau, Eden Roc, Ritz-Carlton, Hilton Bentley and Doubletree Grand hotels.
Graduates also can apply to enroll in the Hospitality Institute's new 12-week Culinary Arts Basic Skills Training course, which recently was boosted by grants from several donors. Twenty-two students are in the first class that began in mid-September.
— Staff Report
More Features Articles