---
Powerful Partnerships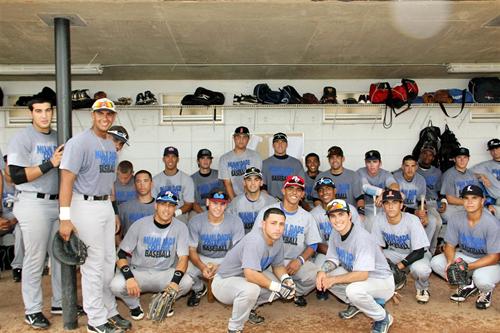 Taking Their Game to the Next Level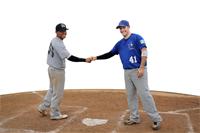 Shaking hands before the game are MDC player Steven Negrón, left, and Oren Gal, of the Israel national team.
Miami Dade College's baseball team had the rare opportunity recently to play a pair of international exhibition games.
In the first game, the Sharks defeated Israel's national team, 11-0, at MDC's Kendall Campus. Most of the players on Israel's team are relatively new to baseball.
In the second game, Israel's World Baseball Classic team defeated MDC, 5-2, in Jupiter, Fla. This Israel team is comprised mostly of Jewish-American players with pro experience.
Unique Opportunity
"I wish we could play Israel's pro team 15 times because they are very professional, and we'd get better from the experience," MDC Coach Danny Price said.
MDC started freshman pitcher Ivan Peláez against Israel's pro team. One of the batters he faced was outfielder Shawn Green, who was a two-time All-Star in the major leagues.
Green, 39, is now serving as a player/coach for Israel's pro team.
Peláez was aware of Green's reputation, but he didn't know where he was in the batting order.
"I was just pitching and trying to get guys out," Peláez said. "I didn't know I had gotten him out until later."
Peláez got Green to swing and miss at two changeups before retiring him on a groundout to first base.
Learning From the Pros
Thankful for the exceptional team-building experience, MDC's sophomore catcher Danny De La Calle said it was a pleasure competing against Green and all the other pro players on Israel's roster.
"There was a great atmosphere in that game," De La Calle said. "It was fun facing all those pro players. It really opened my eyes, and I think this will bring our game up to where it needs to be for the spring," when the regular season starts.
Former MDC Coach Steve Hertz, who serves as an advisor to Israel's teams and coordinated the exhibition games, said he thought the Sharks performed very well.
"They were competing against a lot of players who have reached the upper levels of the minor leagues," Hertz said. "Israel's pitchers were throwing between 90 and 95 miles per hour.
"But having faced guys like that will help Miami Dade in the upcoming season."
— WV
More Powerful Partnerships Articles