---
Making Their Mark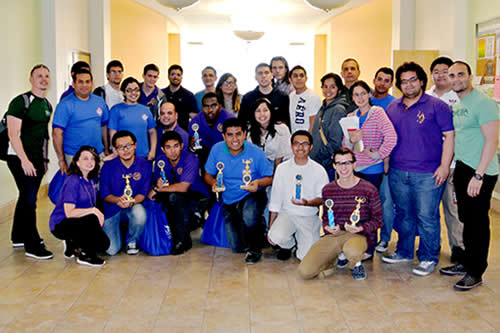 Adding Up to Victory
In April, math students from Miami Dade College's North, InterAmerican, Kendall and Wolfson campuses went to the University of North Florida in Jacksonville to spend their Saturday taking an all-day test at the Florida Two-Year College Mathematics Association's 2013 Math Olympics. "They loved the experience!" said MDC Math Professor Lourdes España, one of several coaches who meet weekly with the campus Math Clubs.
At final count, MDC held five of the seven awards. North Campus' Yang Li took first place in the individual competition, Kendall Campus' Steven Rivadeneira took second, and Nicolas Luca, also from Kendall, placed fourth out of a field of more than 100 competitors.
In addition, Miami Dade College stood out in the team competition, in which 25 teams competed: Li and teammates from North Campus Stanley Dor, Alberto Gutiérrez, Octavio Del Sol and Rene Villareal won second place; Rivadeneira and Luca joined Hau Lian and Wenkui Ren to capture the award for third place.
Math is a discipline that bridges cultures, and España was especially pleased to see how the students enjoyed each other's company and worked well together. "Li has been in the United States not quite two years. There were students from Haiti, Cuba and China. For others, the trip to Jacksonville was the first time they had left South Florida."
"At the end of the competition, there is a 30-minute break during which all the scores are calculated – long enough for doubt to set in," España laughs. "We had no idea where we would fit in and when they announced the winners, the students were so surprised, so excited! It was a thrill to see them do so well."
— NG
More Making Their Mark Articles