---
Making Their Mark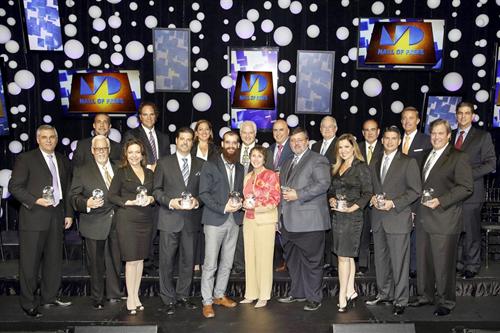 Exceptional Alumni Inducted Into Hall of Fame
Miami Dade College has assembled another impressive array of highly regarded alumni for induction into its Hall of Fame during the 11th annual gala at the JW Marriott Marquis Miami.
These top-notch graduates have excelled in every type of industry, but their common denominator is the many professional accomplishments they have attained since earning degrees from MDC. They have successfully risen to the highest levels in their fields, making notable contributions to their companies and the community along the way. In addition to recognizing their achievements, this event also helps raise substantial scholarship funds for MDC students. Outstanding alumni being inducted this year include:
Architecture: Agustín J. Barrera, Vice President, AECOM
Banking: Jorge J. González, President and CEO, City National Bank
Education: José L. Dotres, Assistant Superintendent, Office of Human Capital Management, Miami-Dade County Public Schools
Engineering: Pedro Modía, Director of Transmission Services and Planning, Florida Power & Light
Entrepreneurship: Christopher G. Korge, Chairman, NewsLink Group LLC; Partner, Korge & Korge
Health Care: Albert R. Maury, President and CEO, Leon Medical Centers Health Plans
Hospitality, Culinary Arts and Tourism: José Tomás, Former Chief People Officer and President of Latin America and the Caribbean, Burger King Corp.
Journalism – Broadcast: Sandra Peebles, News Anchor/Reporter, Univision 23
Journalism – Print: Jay Ducassi, Metro Editor, The Miami Herald
Law: Richard Patiño, CEO, The Patiño Law Firm
Marketing: Lourdes M. Cuzán, Managing Director and International Marketing, Fowler Rodriguez
Medicine: Isaac Bassan, M.D., Gastroenterologist/Hepatologist and Weight Loss Specialist, Bassan & Bloom M.D.s P.L.
Nonprofit Sector: Marisel Losa, President and CEO, Health Council of South Florida
Nursing: Linda J. Timmons, R.N., CNOR, Nurse Manager of Surgery, Baptist Hospital of Miami
Public Safety – Police: Manuel Orosa, Chief of Police, Miami Police Department
Public Service: Hiram Ruiz, Statewide Director of Refugee Services, Florida Department of Children and Families
Sports: Michael J. Piazza, Former Major League Baseball Catcher, Los Angeles Dodgers, Florida Marlins, New York Mets, San Diego Padres and Oakland Athletics
Urban Development: Guillermo Fernández, President and Co-Owner, Link Construction Group Inc.
Visual Arts: César Santos, Artist
— AMS
More Making Their Mark Articles