---
Powerful Partnerships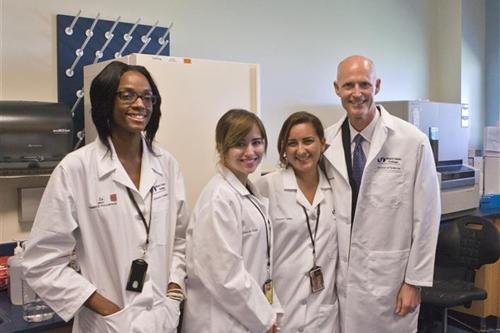 Governor Lauds MDC's Programs, Innovation
Gov. Rick Scott praised MDC for offering the greatest educational value in the nation for more than five decades during a recent visit to the College's North Campus, where he toured many of its acclaimed programs and met with faculty and students. Scott heralded MDC's programs as pathways to rewarding jobs and successful futures, recognizing that Miami Dade College has an exceptional track record of preparing graduates for high-paying, in-demand careers.
During his visit, he was able to observe the impressive programs at the Science Complex at North Campus, where scores of students are working toward degrees for critical jobs in science, technology, engineering and mathematics (STEM) fields. The impressive facilities, which rival those of even Ivy League and governmental laboratories, allow students to gain important hands-on experience and take part in cutting-edge research under the direction of MDC's distinguished faculty on everything from cancer drugs and solar flares to polymers and their applications in various industries. Several students have even had the opportunity to present their findings at national conferences.
These outstanding programs coupled with MDC's affordability offer a shining example of how higher education can best meet the needs of those it serves, propelling students toward brighter futures.
MDC President Dr. Eduardo J. Padrón said, "Miami Dade College applauds Gov. Scott for his leadership in advocating for greater access and affordability to higher education. We at MDC have long been committed to these goals and are pleased to unveil a 'Pathway to the Baccalaureate' initiative that will provide interested students the opportunity to complete one of the most affordable, high-quality, workforce-oriented bachelor's degrees in the nation."
— Staff Report
More Powerful Partnerships Articles